Girls' basketball is shooting for the win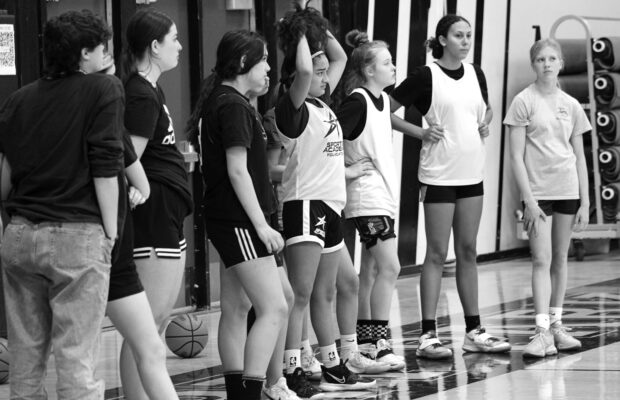 The NPHS girls' basketball season started on Nov. 14 after six months of off-season where they developed their physical abilities, strategies and connected as a team. This year, the athletes plan on taking home the title of CIF champions come March.
Darren Burge, Varsity Coach, has been at NPHS for 11 years and has been coaching basketball for a total of over 20 years. This year, he hopes that the team can achieve all the goals they have set, including making it to championships. He has watched eagerly as the team has steadily improved and after watching the relationship of the girls spark, they perform their best in the games that matter the most. "There is nothing better than seeing a team come together and play well in the playoffs," Burge said. With a full schedule of practices Mondays through Thursdays from 7:00 to 9:00 p.m., the team has been working hard to prepare for their games.
Lauren Davis, senior, is on the varsity team and has been playing since her freshman year. "Our basketball team is really great for newcomers because there's lots of people that have never played basketball before and our coaches are really great with that…," Davis said.
Ria Duhdia, junior and player on the JV team, has been playing at NPHS for all three of her high school years. She said the NPHS girls' basketball team is a great place to learn new things and expand your skills as a player. "You can [also] learn teamwork and how to work with other people even if you guys don't always see eye to eye," Duhdia said.
The girls and their coaches are full of hope for this year's season, and cannot wait to live up to the team's goals. "Winning a CIF Title, 4 league titles and going undefeated in league for two years in a row are just some of the highlights I've enjoyed over the years," Burge said.