LAUSD workers strike for better pay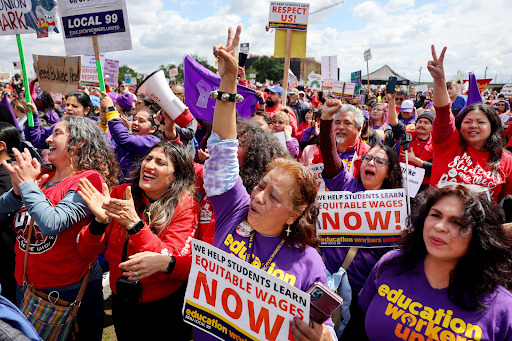 From March 21 to March 23, over 30,000 Los Angeles Unified School District (LAUSD) support workers went on strike after failing to make an agreement with the district. These workers include teacher's aides, bus drivers, custodians, and cafeteria workers, all demanding better wages. Teachers joined in solidarity with the workers, after the local teacher's union declared that it would also honor the strike, pausing school instruction for the district's half a million students.
During these three days, a small portion of school sites remained open for students, as well as public libraries and grab-and-go food sites. These are just a few of the resources mayor Karen Bass helped provide for the families of Los Angeles. According to CBS news, "Schools are so much more than centers of education — they are a safety net for hundreds of thousands of Los Angeles families," Bass said.
The Service Employees International Union Local 99 (SEIU Local 99), which represents the LAUSD support workers who went on strike, accused the district of leaking news of a confidential meeting to the media. The union then declared strike, citing the leaking of the meeting as "another example of the school district's continued disrespect of school workers." Workers expressed that living wage was a major demand, as was increased staffing and more hours for part-time workers. "We live in this weird paradox as workers that help feed children and yet we struggle to feed our own children. We help students go to college, yet we don't have enough money to send our kids to college," Adrian Alvarez, a LAUSD employee said.
On Friday, March 24, a tentative agreement between the district and union was met, in which the district agreed to increase pay for support workers by 30%, which would raise the average annual salary from $25,000 to $33,000. However, the reasons for the strike extend beyond just the LAUSD but also sheds light on the underpaid workers who are essential to schools all around the United States. In a time of recovery from COVID-19, districts are facing staff shortages, underfunding, and much more, which contribute to the struggle in keeping up with wage demands as inflation gradually increases.