Little Free Libraries continue to grow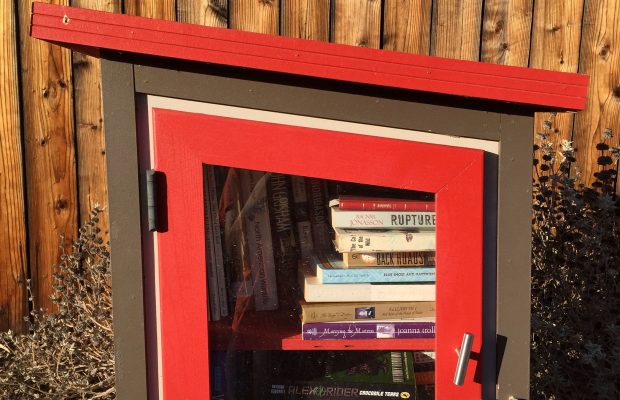 Within the city of Thousand Oaks there are two official public libraries: the Newbury Park branch library and the Grant R. Brimhall library. However, unbeknownst to many citizens, there are actually eight more locations around the city to borrow and share books free of charge.
Little Free Library is an organization established in 2010 with a mission to share literature with all generations and bring communities closer together. The organization reaches vast corners of the world, and libraries are popular in Canada, the UK, the Netherlands, and are even found in India and Ukraine. In Portland, OR, alone, there are more than 200 little installations open to the community, and Los Angeles has close to 100 little libraries.
The process is simple: anyone who wants a little library in front of their house, business etc. can build or buy one of these cabinet-sized book houses and register it into the Little Free Databases. This online map system allows community members to find libraries close to them to enjoy.
These libraries often hold 20 or so books, for adults and children, stocked by the owner and the community. The unspoken rule is that if someone comes and takes a book, they generally leave something in return, whether it is a CD, a cassette, a book on tape, a novel or even a coloring book, and each library has a pocket book for notes from visitors.
The Handy family, Thousand Oaks residents, set up their library over the summer. They consider themselves stewards of the library, rather than owners, to enhance the communal feeling that these libraries provide. Their hope is "to foster a positive community environment and encourage neighbors to enjoy and utilize the library," Amanda Hoffman said.
"The first day we set up our library, a neighbor driving by stopped and exclaimed how wonderful it is," Hoffman said. "Another neighbor also emailed me within the first week and shared how much she loved the new library."
One library in Thousand Oaks, at the Hillcrest Center for the Arts, was built in 2012, travelled to the desert festival "Burning Man" twice, and found its home as a community treasure in October of 2014.
Iliana Ormond, Thousand Oaks community member, just opened up her little library in February of this year. "If someone's week is brightened because she found a great book, or was able to clean out a bookshelf by donating some books, I'm happy," said Ormond, who loves how accessible Little Free Libraries can be.
"I love to read and would definitely enjoy having Little Free Libraries around my neighborhood," Kris Meinhof, junior, said.  Little Free Libraries exist for people of all ages to utilize, and can be used by students as a costless way to access literature.  
"With enough availability, Little Free Libraries could help make reading outside of class become a normality for young kids and teens, and even adults," said Meinhof.