Little Shop of Horrors lifts spirits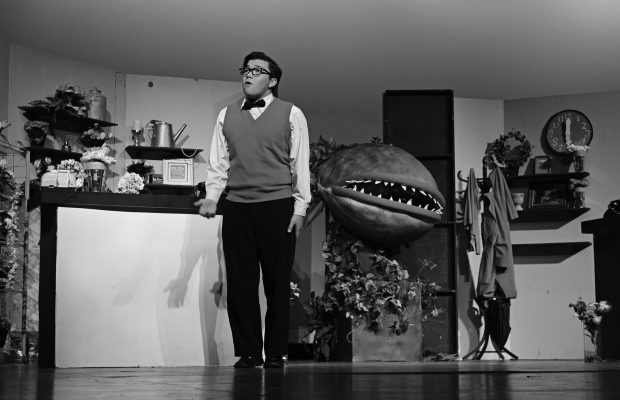 After a rocky start and significant delays, Little Shop of Horrors opened at NPHS on Nov. 28. The musical, which ran until Dec. 2, centered around an unassuming plant shop on Skid Row that becomes home to a man eating plant.
The show was an enjoyable experience for both the cast and audience. Celina Kott, senior, played Ronette in cast B. Kott has been involved in theater since her sophomore year.  
"This was probably one of my favorite shows," Kott said. "It's an amazing show and we worked tirelessly on it for months."
Stephanie Zager, sophomore, played Ronette in cast A.
"I knew the show was going to be a lot of fun," Zager said. "A lot of people can relate to it because it's really funny and there's a lot of great moments."
Although Cali Greenidge, senior, knew many people in the show, she attended the show to show her support of the department.
"I think it is super important to support the arts programs at school. Everyone puts a lot of effort and time into it," Greenidge said. "My favorite part was watching the puppet. It was so cool to see it come to life."
Anyone who has seen Little Shop can attest to the amazing puppet, Audrey 2 in the show. Creating Audrey 2 was a complicated task, with several moving parts.
"There are four puppets in total and the whole process took me about five months," Melody Hellard, senior, said.
Although Hellard has been making costumes and acting at NPHS since her freshman year, the Audrey 2 puppets were her most ambitious project.
"I took on the project and planned and created them myself, getting assistance along the way from my family, Mr. Atkins, who taught me about wood and power tools, and tech theater who was there when I needed to split up small tasks," Hellard said. "It has always been something I wanted to do, but I never had a reason to do them before now."
In addition to creating the puppets, Hellard also acted in the musical.
"I play Chiffon in the show," Hellard said. "It is a super fun role to play because there is a lot of singing involved and I get to be in almost every number and essentially watch the show from onstage."
Despite the delay, preparation for Little Shop of Horrors was underway long before opening night. "We start basically within the first week of school," Craig Hastings, head of costumes for the department, senior, said. Originally opening night was set for Nov. 9. However, after the fires broke out, the show's schedule underwent major shifts.
The cast made the most of the situation, taking the opportunity to help the community. A portion of each night's proceeds went towards providing aid to those affected by the fires and events at borderline. On Dec. 1, the cast held a free benefit night, and donated all proceeds generated by food sales to victims. The event included karaoke, a sing-along and photo opportunities with Audrey 2.
"What really stands out to me with the show is how resilient everyone has been with everything that's going on," Craig Hastings, said.
In these challenging times the show brought joy to audiences, while helping the community in the process.