Malibu mourns the loss of local students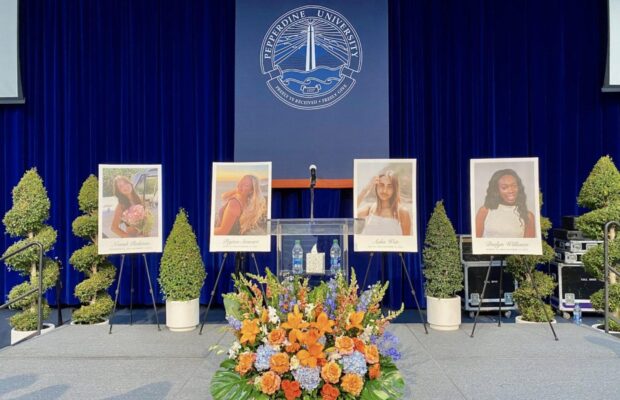 On Tuesday, Oct. 17, there was a car accident that killed four Pepperdine University students and injured two other pedestrians. Those four college students were on the sidewalk along the Pacific Coast Highway (PCH) when the accident took place. 
The girls were pronounced dead at the scene and then identified as seniors from Pepperdine University and members of the Alpha Phi sorority. They were recognized as Niamh Rolston, Peyton Stewart, Asha Weir and Deslyn Williams.
Officials have identified the driver as a 22 year old male, Frazier Bohm. After the accident, Bohm was arrested and charged with four counts of vehicular manslaughter and murder with gross negligence. 
Bohm was arrested on Tuesday, Oct. 24 during the investigation, and made his first appearance in court the next day. Bohm has pleaded not guilty, and there is a preliminary hearing scheduled on Dec. 15. He claims that the reason for the death of the four girls was not his fault, and that he was being run off the road by another driver. 
The Los Angeles County Sheriff's Department has said that the four college students were hit at around 8:30 p.m. after Bohm lost control of his vehicle. According to the investigation, the driver was in a dark colored BMW when he swerved onto the north shoulder of the PCH. He then crashed into three different vehicles that were parked alongside PCH. Those vehicles then hit the pedestrians who were walking on the side of the road. 
In the investigation, the sheriff's department has ordered toxicology reports, search warrants, and a speed analysis. While the car recorded speeds of 104 mph right before the accident, Michael Kraut, Bohm's attorney said that was incorrect, and the Bohm was actually going 70 mph. Originally, there was a set bail at $8 million, but it has been lowered to $4 million. If Bohm is convicted, he could face multiple life sentences. 
Kraut has stated that there is video evidence of an earlier crash further down PCH that took place right before the accident. The other person involved in this accident allegedly became enraged, which was the reason that Bohm had to accelerate and caused him to drive off the road.