Musicians express their passions through Tri-M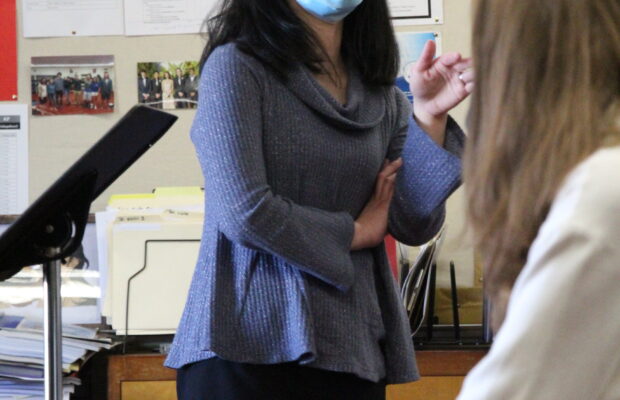 Located in a small room on NPHS campus, musicians part of the Tri-M [Modern Music Masters] Music Honor Society gather together every two weeks to explore music in different ways, perform in various small groups and brainstorm ideas on how they can showcase different musical abilities. The program is a part of the National Association for Music Education which provides opportunities for students to express their gifts and passion for music in the community and to be recognized for their achievements.
David Kwon, junior, will be continuing as the Tri-M performance coordinator for his senior year. Despite only being in the program for a year, Kwon found a new family within the program. "I've had a great welcoming experience in Tri-M, being surrounded by a group of people who share the same passion for music as me. I enjoy being able to talk about certain pieces of music at a high level with my peers and being able to coordinate and perform those pieces in various ensemble groups," Kwon said.
For those who do not know about the program, Tri-M may just seem like an average National Honor Society group; however, there is much more to it. "Tri-M is set apart from other national honor societies because its members are able to demonstrate proficiency in academics and music, whereas most other honor societies primarily prioritize academic excellence only," Kwon said. "Properly inducted members of Tri-M are recognized for their diligence and dedication in multiple fields."
Tri-M offers a number of different performance opportunities, from entertaining shoppers at the Oaks Mall to performing at the Stagecoach museum. In March, the program was able to host their first ever in-person concert in the PAC, the Student Musician Showcase. Rachel Lee, sophomore, was one of the musicians that got the opportunity to arrange and perform her own song at this concert. "We spent a lot of time choosing songs and getting a list of people who were going to perform and which songs they were going to do and with who," Lee said. "Then, we had to make a list of tasks for people at the concert, like ticket sales and passing out flyers, or setting up chairs and stands, and then each group performing had to rehearse on their own time and send in videos of their progress once in a while to Mrs Huang."
Tina Huang is a music teacher on campus and the head of NPHS Tri-M. Huang sees Tri-M as a way to integrate students further into the music community of the school across programs. "We'd love to draw from just other talented student musicians from outside of the music ensembles, any potential student composers, and we'd also like to try to foster more collaborative pieces," Huang said.
Although this school year is coming close to an end, Tri-M still has a lot to show off. With creative ideas and a newly selected board for the next school year, the musicians are excited for what the future will bring. "I am excited to continue to work with Mrs. Huang and other musicians to further expand our range of service to the community with our music," Kwon said. "I truly believe that music is able to convey messages and stories untransferable by any other means of expression."
"I am excited to continue to work with Mrs. Huang and other musicians to further expand our range of service to the community with our music," Kwon said. " I truly believe that music is able to convey messages and stories untransferable by any other means of expression."