Pirates of Penzance hooks audiences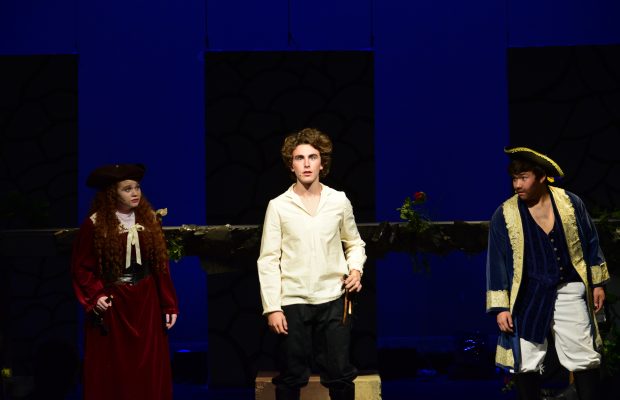 The curtain opens up to reveal a cast of pirates: 11 sisters, 13 cops and a general, dressed in handmade costumes, smiling proudly before taking their final bow. The audience laughs and applauds as opening night of Pirates of Penzance comes to a close.
Pirates of Penzance is a musical about a man named Frederick who became indentured to a band of pirates. When Frederick reaches his 21st birthday, he is released from his service to the pirates and he goes out into the world.
"He has been with this band of pirates the entire time so it's just a completely new experience for him and since he has never been out into the world, so much goes wrong and all these crazy things happen," Jillian Cotone, senior, said. Cotone plays one of the 11 sisters.
Pirates of Penzance is a challenging piece for both the actors and the people working backstage, due to the fact that it is an operetta.
"An operetta is a tiny opera which means that it's not quite as intense as an opera but that does not mean that the show as a whole is not really tough," Olivia Boyd, senior, said.
Boyd is the head of the hair and makeup department for Pirates of Penzance, as well as one of the sisters.  
"Hair and makeup is in and of itself in a very interesting department because of the level of interactions between the actors," Boyd said. As the head of the department, Boyd is in charge of making the pirates look as if they "have not seen a mirror in quite a bit of time."
Boyd is not the only theater member who has found the operetta more challenging than past performances.
"This play has made me grow as a performer. There's a lot of singing and there's hardly any acting. There's hardly any dialogue because it's mostly singing," Sam Herbert, junior, said. "A lot of the plot points are from the songs and it's just something I've never done before. It's really made me grow and it's really tough to do." Herbert played Frederick, the lead role.
A crucial part of the theater department is the costume department. Melody Hellard, junior, has been designing costumes for the theater department for three years. She designed all of the costumes that the sisters wore in the play, in addition to playing one of them.
"I made a lot of costumes and it's just a lot of late nights and a lot of work, but I'm really happy with how it turned out," Hellard said.
In order to immerse herself in the play, Hellard watched the original movie, found pictures of the costumes from the movie, studied 1800s fashion and made lots of Pinterest boards to gather ideas as to what she wanted her costumes to look like.
"When it comes to productions at NPHS, we always bring something different to the table. This is defiantly a bit more advanced than the other stuff that we have done but the department is really stepping it up and taking a chance and doing a really incredible show," Cotone said. "We are showing the school that the theater department here is really dedicated and capable of putting on amazing productions."
Pirates of Penzance will have another performance on Nov. 17 and 18 at seven in the PAC.