Protesters march for female reproductive rights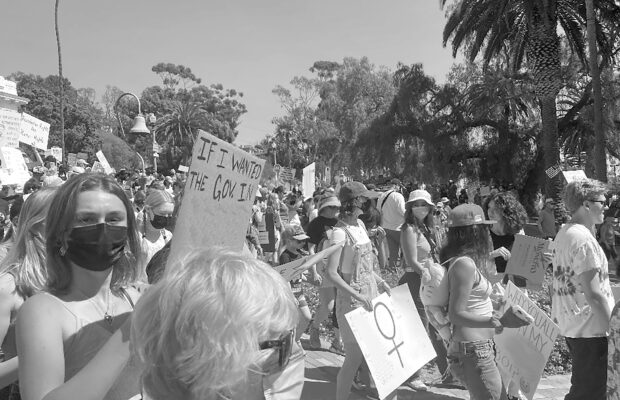 On Saturday, Oct. 4, a march to protect female reproductive rights was held at Ventura County Hall. The protesters held various signs that read "Reproductive Rights are Human Rights," "Keep your laws and paws off my body," and "I support a woman's right to choose."
Many different people spoke out to the crowd about the importance of reproductive rights. Mo Roberts is a supporter of the Oxnard Women's Committee. "We stand for working class women all over the world; we help women find a voice for injustices that happen," Roberts said.
The protesters joined their voices in chants that were repeatedly shouted as they marched. Some of the chants included phrases such as "my rights, my body." After speeches, flyers were distributed among protesters with information on how to join or support women's committees in the area.
Roberts expressed the importance of women's frustration on the issue of their reproductive rights. "Women should be angry, they shouldn't sit there and wait for the perfect time, it's never going to be the perfect time," Roberts said. "This anger is completely justified, it's valid and it's really important to show how powerful the people are when they become organized."
The National Association of Social Workers (NASW) signed to be one of the many partners of the Women's March. The NASW shares some principles with the Women's March. "NASW views reproduction justice from an intersection perspective that centers the voices of those disproportionately impacted, especially low-income women of color," NASW said in a Facebook statement.
Elise Penzin, a senior at NPHS, also attended the march. "[The march] really bands women together, even the people who aren't women and just support women's rights, and reproductive rights and just the rights of people that had their voices taken away for so long," Penzin said.
While some people were having a casual Saturday afternoon, others were marching for what they believed in. "It is really important to see what the community is doing and what they can do when they come together," Roberts said.