Sanders and Buttigieg battle for early lead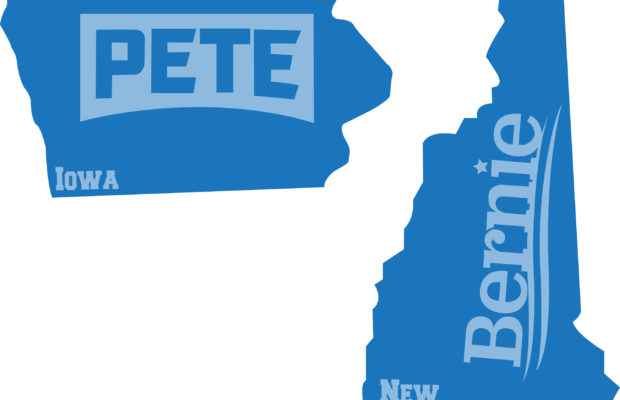 On Feb. 3, 2019 the Iowa state democratic party held the first nominating caucuses of the 2020 election cycle. After several complications, 100 percent of precincts are now reporting and Pete Buttigieg is in the lead with 13 delegates.
The results from the Iowa caucus were delayed due to problems with the app that was supposed to speed up the counting process. The app was not reporting the full results, and thus the Iowa Democratic party was forced to go back and look over each vote at each caucus site manually with the paper ballots. Further adding to the confusion, the Party had to release three different statistics instead of the usual one, the total first round votes, the second round votes and the total number of delegates awarded.
After all the votes were tallied, Pete Buttigieg, former mayor of South Bend Indiana, is projected to have gained 13 delegates and Bernie Sanders, Senator from Vermont, claimed second place receiving 12 delegates. Elizabeth Warren, Senator from Massachusetts, received eight delegates, Joe Biden, former Vice President, received six delegates, and Amy Kloubuchar, senator from Minnesota, was the only other candidate to receive delegates from Iowa, gaining only one. However, both Sanders and Buttigieg are calling for an audit of the results of the caucuses, as they are hoping to score an extra delegate to give them the advantage.
The New Hampshire primary took place on Feb. 11, 2020 and unlike the Iowa Caucus, the votes were all accounted for with Sanders receiving 26% of the vote. Buttigieg followed with 25% and Klobuchar came in third place with about 20% of the vote. No other candidates received enough votes to gain any delegates. New Hampshire "felt the Bern," as Sanders won the plurality of the vote and received nine delegates. Buttigieg also received nine delegates and Klobuchar received six.  
The delegate count from New Hampshire showed both SAnders and Buttigieg projected to gain nine delegates, and Klobuchar receiving six delegates. No other candidate received enough votes to gain any delegates.
The California primary election is going to take place on Mar. 3, 2020. Currently, the RealClear Politics average, which is an aggregate of numerous different polls, shows Sanders with a five-point lead over Biden, followed by Warren as of Feb. 13. No other candidate is projected to have enough support to gain any delegates.