Stuck on the Sideline: Injured Players Wait to Recover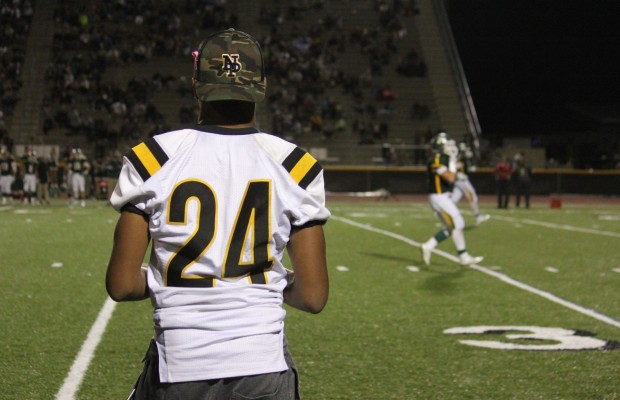 This season, the varsity football team motto "We Are One" has been pushed to the limits as key players are forced to the sidelines due to injuries. Players such as Marques Evans, Andrew Noble, Erich Wuesthoff, Luke Wuesthoff, and Dawson Schmidt have missed action during Friday nights due to a variety of injuries.
"Obviously all injuries have an effect on the team, some more than others. Having Andrew and Marques out is really big especially for our offense. Also having Luke out is really big for our defense because he's one of our starting falcons (outside linebackers) and we could really use him on the defensive end," said Erich Wuesthoff, senior wide receiver who's suffering from a severe concussion. "But you know our team works hard enough so we can definitely cover for the injured players."
Though the team has continued to play well on the field, it's been a tough season for those suffering on the sidelines. This includes Andrew Noble, who is out with an oblique contusion that he obtained during the Westlake game. "It's really difficult to watch our boys work so hard and only being on the sidelines just cheering them on," said Noble, junior wide receiver and defensive back, "I just wish I could be out there and help the team win."
"The worst part is probably Friday nights having to watch the game instead of being out there playing, because you want to go out and make plays and help the team out, but you can't," said Luke Wuesthoff, senior wide receiver and outside linebacker, who is injured with a second degree sprain to his MCL.
Besides the disappointment of standing on the sidelines, injured players also struggle with the stress of staying in shape while their bodies are recovering. Some players such as Dawson Schmidt, senior wide receiver and linebacker, haven't been cleared to get back in the weightroom, and others such as Luke Wuesthoff are cleared to start working to get back on the field.
"I still go to the weight room and I lift upper body, and with physical therapy they're having me starting to run and stuff, and that's how I'm staying in shape," said Luke Wuesthoff who expects to return to play against Thousand Oaks.
Aside from staying strong physically, players must strive to keep a positive mental attitude as well, which isn't always easy. "It's tough not playing, it's senior year too," said Schmidt who is out for the season with tears in his ACL and LCL. "I was expecting big things, but I've accepted it because I have to move on. Things happen."
Suffering from injuries has definitely made some players evaluate their long-term goals. Though dedicated to the team, players have had to take their future into consideration. "I've realized that if I take another hit to the head I could lose both high school and college eligibility due to head injuries," said Erich Wuesthoff.
Erich's brother Luke, who is also college bound and will be pursuing collegiate track and field, has had to consider the toll football is taking on his body. "My coaches are pretty supportive, they know that I'm hopefully looking to go to college for track, not football, so they understand that, that's my main goal," said Luke. "Football is just a thing for fun for high school, so they are supportive, but they would like me to come back."
Keeping with their motto "We Are One", means those who are sitting out still have an impact on the team. "I still feel totally a part of the team," said Marques Evans, junior cornerback. "Nothing's changed, team chemistry is great."
For example, Andrew Noble doubles as a cheerleader between plays, giving pep talks and providing support for his teammates. "I get them pumped up on the sidelines and I encourage them after good plays," said Noble.
"I've got a lot of faith in my team. They got this. They've been preparing for this all season. I'm confident in them. I'm real proud of my boys out there, even though I can't be on the field with them," said Marques Evans.
Photo by Adrianna Robakowski/Prowler