Students experience shows from their cars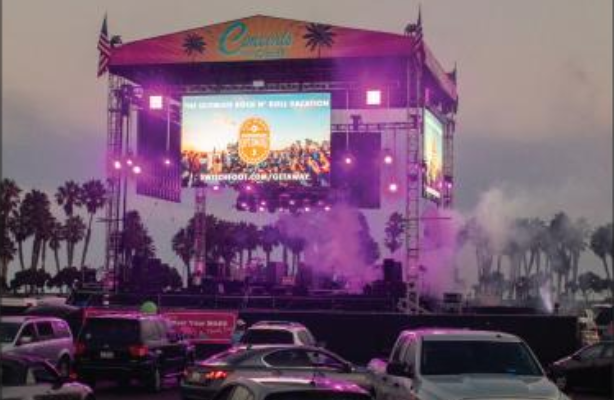 For all music and movie lovers, do not lose hope yet: there's still a way you can experience this magic, COVID-19 style. Multiple places, including the Ventura Fairgrounds, have made some adjustments to make events as enjoyable as possible while taking the proper safety precautions. 
Kevin Campos, senior, recently experienced the closest thing you can get to a concert from the band Fitz and Tantrums at the Ventura Fairgrounds. "You basically park at the designated parking spot and just set up, and listen to the nice music and dance," Campos said. "I believe they did an amazing job for them to recreate that moment for people."
Bryce Ferguson, junior, also went to a drive-in concert at the Ventura Fairgrounds. "It was Metallica, and it was a pre-recorded video played on a few screens,"  Ferguson said. Campos and Ferguson both agree that the Fairgrounds tried hard to keep it as safe while recreating the concert experience. "People are allowed to go outside of their cars as long as they're staying 6 feet away from other people and wearing a mask," Ferguson continued.
Both Campos and Ferguson saw this as an unique experience, but was definitely on the costly side. "It was $130 per car depending on the range you wanted to watch the concert from," Campos said. Ferguson believed it was not worth it in the end. "It was a cool experience, but not being able to see the actual band for how much it cost wasn't worth it," Ferguson said. "Most people today can just go on YouTube and watch a livestream for free. I would recommend it if it was cheaper." 
Drive-in movies have proven to be quite popular as well. Kylie Lewus, freshman, recently went to two drive-in movies, including the WestWind drive-in theater to see "Beauty and the Beast." 
"There was a ticket booth stand and we bought tickets for everyone in the car, the price was around $10 and they told us to park behind the first row," Lewus said. "The workers told us the radio station to go to to be able to hear the movie." In terms of safety, Lewus recognizes they made efforts to be precautious as well. "The cars were 6-10 feet apart and you had to wear a mask when you left your car area." Lewus also believes that the price was worth it for the quality of her experience, rating it a "10 out of 10.". 
While these times continue to change and lead people with uncertainty, there's no reason not to enjoy them while still saying safe. Though this may not be exactly what they are used to, it's still something they can appreciate with the closest taste of normal they can get.