Talent flourishes in Conejo Theater for Everyone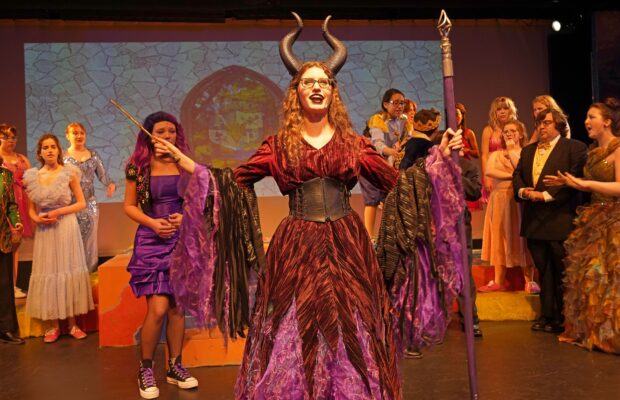 Conejo Theater for Everyone is a program that runs through Conejo Recreation and Park District's therapeutic Recreation Unit and teams up with Young Artist Ensemble to give opportunities to performers with disabilities. On Feb. 24 through the 26 the actors performed "Descendants" a musical based off of the Disney Channel original movies. And those movies are about the kids of the most famous villains and iconic Disney movies, and how they navigate the worlds that they've created from the movies.
McKenna Tedrick, director of the "Descendants" production, has now officially directed five plays. "I think this is the first one [play] I've ever gotten paid for. So that's been really cool, but I think I've directed four [plays] before this Yeah, so this makes it five," Tedrick said.
Isabella Rose, an actress who played Mal in the production,felt a strong connection between herself and the character she portrays. "It was definitely a very complicated role, with a lot of complex feelings," Rose said. "[There was] lots of anger [that had to be portrayed] and then switching back from like, kind of not liking people and then pretending to be nice and then eventually becoming a good person." Rose said.
Katherine Serena, the actress who performed as Ben in the production, felt that it was an easier role to act in than others. "It was more fun to get to mess around with the things that I did, like how to portray them," Serena said. Serena is happy being able to perform in a play that offers more inclusivity in the community. "I think [the play] is very inclusive and I'm very glad that they do it because it's so fun getting to meet more people," Serena said.
When performing, Serena prefers to have a live audience because of the feedback and encouragement she receives when performing. "I think the pros are that you get a live audience and they're always really reactive and they laugh at your jokes and they [gasp] and they clap and it helps give you some form of confidence to be up there," Serena saiThe program had a successful weekend, completely selling out their Friday and Saturday shows. "I think that every person in this show was casted perfectly. I think everybody has just grown into their role so beautifully," Tedrick said.