Tension, excitement, grind: what students feel as they get closer to the military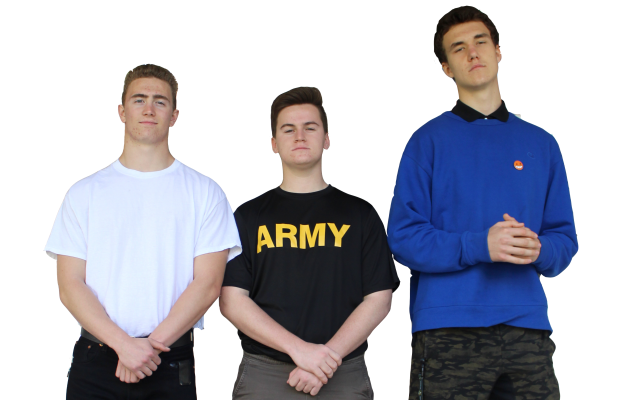 High school graduation is a time of change for all students. For many, the next step is college — whether it be a four-year university or a local education at a community college. For some, it means longer hours at work and more responsibility at home. And, for a few students, it means joining the military.
With parental consent, the earliest age to join the U.S. Armed Forces Reserves is 17 years. Although a high school diploma is generally required, there are some exceptions, and as long as a student is on track for this achievement, they are still eligible.
Jack Sampson, senior, enlisted in early March. He is 17 years old and feels young to be going into the military. He is in the Delayed Entry Program (DEP), where he will train with the Navy until he is ready to ship out.
Sampson was drawn to this career path partially because of the educational benefits that it entails. He sees the Navy Seals as a program that can enhance character and equip a person with experience and a secure future. "I'm going to go into business and start my own business," Sampson said, referring to what he plans to do when he gets out of the military. "And then I'll make a lot of money from that, and be able to provide for my family."
Although he felt pressured by recruiters, Sampson decided on his own to join the Navy. He looks up to a few of his friends who joined the program. "It's the hardest military program in the world. It's going to influence who you are as a person for the better in so many different ways," Sampson said. Training for his job and working in such a difficult field is something that Sampson hopes will bring him character. "I was watching a video this morning that the crap you go through– this manure– it's just like manure is used as fertilizer to make you better, to make you grow."
Josh Gallant, senior, enlisted in the Army the day he turned 18. He enlisted as an Airborne Ranger Intelligence Analyst whose responsibility is to process and distribute strategic and tactical intelligence to the rest of the troops in regards to enemy forces and potential battle zones.
Gallant had been adamant about joining the Army for quite some time before he was able to enlist. "I decided to join the military for a couple of reasons, a main one being I didn't want to go to college right out of high school, another reason was because I've always wanted to be in the service and fulfill a greater purpose. I feel the time in my life is right to do this and I want to be able to look back on my life and say yeah, I did that. I didn't want to be average I suppose," Gallant said.
On a similar note of Gallant, Johnathan Crocker, senior, plans join the Air Force Reserve Officer Training Corps (ROTC).
"ROTC is a commissioning program that will allow me to train and prepare for the military while in college and eventually join after graduation as a second lieutenant," Crocker said. He was torn between joining the Army and the Air Force, but decided on the Air force because it was recommended to him by the veterans he interviewed.
"When I join, I expect a new kind of way of life centered around discipline, respect, and training for the greater good. It'll also be really nice to constantly be around well-trained professionals all there for the purpose of serving the country," Crocker said.
For many recruits, especially those who choose combat jobs on the front line, violence and the possibility of death are accepted when the contract is signed. As high school students, it is often difficult to think about such a weighted concept.
Sampson considers himself a family guy; he wants to grow up and be able to support his loved ones. "It takes a real man to admit it, but with everything there is fear, anxiety and doubt. I don't want to pass away in the military and lose that opportunity," Sampson said.
Sampson's future job as a Navy Seal is one of the most difficult and demanding branches of the military. At any moment, a soldier has the obligation to respond to active duty. "They might have a mission at night and then be home the next day, so having that emotion rush over you about how you just raided a house or took some guys, that is what I am scared of," Sampson said.  
However terrifying the military may seem in both theory and reality, each of these recruits knew exactly what they were doing when they enlisted; and have comes to term with whatever fate may await them on the field.
"More people die from car accidents each year than in the military," Gallant said. "I'd rather die doing something worthwhile than wasting my life in an office or a classroom. Less than 1 percent of Americans enlist in the military. I'm proud of my decision (and) willing to face what comes with it."
Through intensive training— going to the gym almost every day, as well as participating in Future Soldier Training—  Gallant said that, though he may feel "nervous and uneasy" sometimes, there are other days where he has nothing but pride for the decision he has made. Prior to enlisting, Gallant recalled hearing a quote that read, "Nothing of value has ever been achieved within a comfort zone," which summed up the experience for him so far.