The LEAP Program embraces students with kindness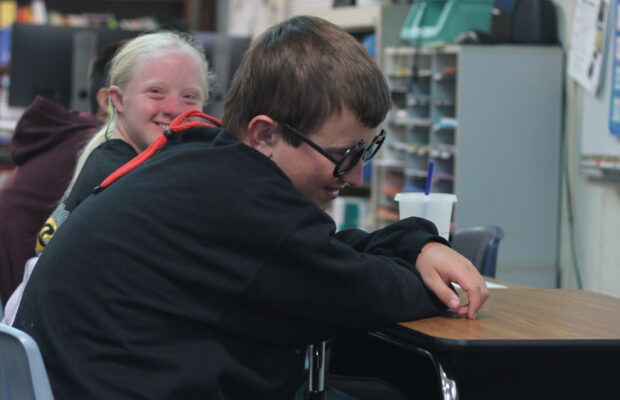 The Learning Essential Academic Program (LEAP) offered at NPHS allows students with special needs to learn in classrooms that focus on a teaching style directed to their individual needs. The LEAP program works to teach common core standards, ways to communicate efficiently and life skills.
Anne Alvarez, LEAP advisor, has been the head of the program for the CVUSD for 15 years. Alvarez works alongside many other teachers and administrators to create an encouraging and beneficial education system for LEAP students. The students are taught functional knowledge and skills they will use in their future daily lives. "Our math focuses on money and buying stuff, budgeting and stuff like that," Alvarez said. "Our English relates to learning name, address, phone number, following a map, so that in the future, our students can go into the community and apply it."
LEAP students often need support with their social skills and help in their classes so paraeducators, like Susan Cuadrado, are there alongside them to help. CP electives are also very encouraged, as they introduce the students to a broad range of subjects and people. "Placing our students in CP electives allows them to interact with typical kids, which a lot of them really really enjoy. They learn social skills and how to act in a larger group of people that they may not know," Cuadrado said. "It helps them establish friendships with the typical kids and the typical students also benefit because they learn that our kids are in a lot of ways just like them."
As part of Cuadrado's job, it is important to help students feel included and comfortable within their learning environment. "The gen ed kids and special ed kids all treat each other with respect. Our kids feel like they've got all these friends and the kids that are in Gen Ed are more willing to hang out with our students. They're not afraid of them or they don't think special-needs students are so different because they realize that they're not," Cuadrado said.
The connections made between special-needs students and other gen-ed students are ones like no other. "I have Gen Ed TAs who come into my class, and our students seem to respond to them better. And the TAs take them out to lunch and listen to them and it's really cool," Alvarez said.
Jennifer Lee, art teacher at NPHS, has been working with special needs students for sixteen years. The students placed in Lee's art class are able to explore unique types of art and experience a different classroom setting. "I think having classes with special needs students lets people know about the different types of people that they'll encounter and they're aware of it and they're used to it. It's not something that's weird, it becomes normalized so that's good," Lee said.
Creating a positive environment on campus helps bring awareness and eliminate bullying. "The LEAP program has reduced the amount of bullying because in the past, some of the bullying was towards special needs students and now there's people who stand up and say, 'Hey, come over and meet them rather than saying something about them,'" Alvarez said.