Athletic trainers and wrestlerettes: Proving they are truly team players, even from the sidelines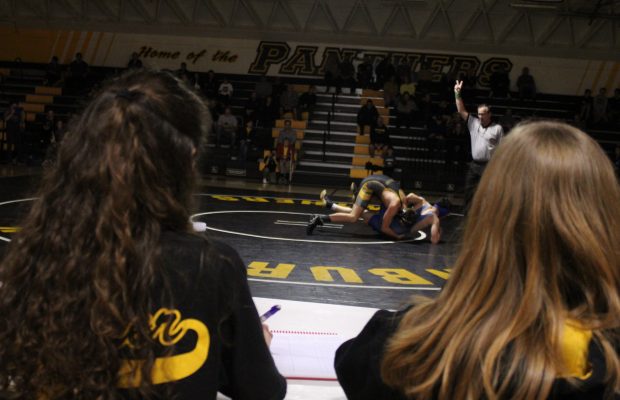 While athletes are playing their games on the field, other students stand waiting on the sidelines, prepared to help their peers. Although they may not be wearing helmets, these select students are a vital asset to all sports teams.
A group of these students come from the athletic training program offered to those eager to be involved in sports medicine. These students work one-on-one with athletes to ensure their safety and prepare them for games.
Lauren Armedilla, sophomore, has recently joined the program and enjoys that the program offers her an opportunity to get ahead. "(Athletic training) is giving me real-world experience for a career I️ hope to pursue. "Also, I️ get to touch on a little piece of everything in this program,"  Armedilla said.
Another group on campus known as wrestlerettes, or stat girls, assist the wrestling team by recording scores and keeping track how members from the team earn points throughout matches.
Nikki Usares, sophomore, first heard about the program in middle school. "I used to be in ASB and we volunteered during the tournaments. I started out as a timer, hitting the referee lightly with a sock baton when the time was up. I volunteered every year for three years for the big tournaments and now I'm taking stats for the team," Usares said.
Usares was further encouraged to become involved when her friends shared their exciting experience with the program. "They said it was really fun, and would be a good idea if we could do it together, so I signed up. And it is really fun and exciting," she said.
Both of these programs allow students to become more involved with school and the activities that go on daily.
The Bureau of Labor Statistics has reported that employment opportunities for athletic trainers is expected to grow 21 percent between 2014 and 2024, according to learn.org.
Eathyn Peterson has been working as the head athletic trainer this past year after almost five years of past experience. He encourages all students to become involved in the program if they would like to learn more about sports medicine.
"Athletic training is getting huge now, college programs are popping up all over the place… Athletic trainers can work anywhere, they can work in industrial settings, high schools, colleges, professional work and athletic training is going to blow up pretty soon," Peterson said.
Students can contact Peterson at eathynpeterson@gmail.com if they are interested in the class.