Boys' and Girls' wrestling teams surge in size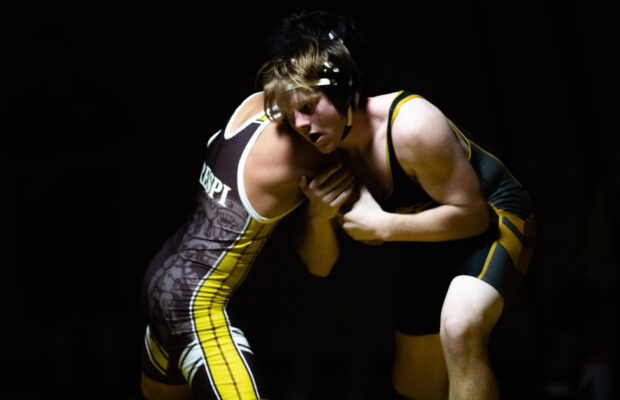 The wrestling team has gotten off to a good start this season, following months of off-season training.
Team captain JM Abaya, senior, and team captain hopes to end his high school wrestling career with his best season yet. "My goal this year is to lead the team. So I want us to be champions again because the last two years Thousand Oaks beat us and I don't want that to happen again. I also hope to place in CIF individuals this year. That's another goal of mine," Abaya said.
However, Abaya acknowledges that wrestling is a difficult sport to improve in, though he's made sacrifices to ensure personal improvement. "Wrestling is a very, very tough sport to improve in because everyone else is also improving at a really fast rate. I quit football so I could focus a lot on wrestling and I went to camps, did off-season training, joined wrestling clubs, and just tried grinding as much as I could. The work you have to put in to get ahead is a lot," Abaya said. Despite this all, Abaya enjoys the process, making it well worth it. "I enjoy the journey of it. How it's your story and you're alone in there," Abaya said.
The wrestling team's seen a surge in popularity; the team has expanded greatly since last year. Oliver Caputo, junior, has been wrestling since he was a freshman and notes the changes this year. "The main difference this year is we have a huge team compared to what we had last year. Last year we had maybe 30 people versus now we have closer to 50. We also have a lot more girls on the team, enough so we now have a girls team which is separate from the JV and varsity team," Caputo said. Maddie Black, freshman, is a member of the girls team. "We go to boys tournaments and girls tournaments but we usually go to girls varsity tournaments and we usually wrestle schools from around LA county," said Black.
The team has also had 4 dual meets, 3 of which they've won. JV goes first, and after cycling through every weight class, varsity takes their turn. The lights are turned off and the spotlights turned on, which creates a sense of excitement.
The team enjoys a good relationship and finds time to bond after their exhausting meets. "After meets, we have a team dinner and it's a great bonding experience. I think that's one of the most fun parts about the team. We all work really hard [wrestling] so to be extremely exhausted and also being able to have a good time after is really fun," Abaya said.
Though unseen on a surface level, wrestling has been important in shaping the lives of NPHS wrestlers. It's more than just a sport for them and has had an effect on other parts of their lives. "I think wrestling definitely gives you a sense of belonging in the sense that you're with a team and gives you something to do so you're not just sitting at home. And I think you can learn a lot [from wrestling.] It's helped me learn to be mentally tough and work through stuff that's hard and persevere through uncomfortable situations," Black said. Abaya also agrees with this sentiment that wrestling has taught him to develop useful life skills. "100 percent wrestling has shaped the person I am today. It's taught me many traits such as being disciplined and having a good mentality about everything. Being stoic and not letting other things affect me and trying to take my losses and see what I can learn from them. And then using that mentality of learning from your mistakes in everyday life," Abaya said.