Battling cancer: one step at a time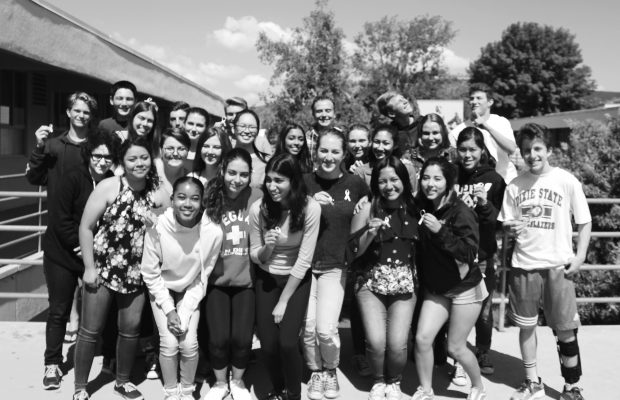 Making the most of their 45 minute lunch break, the American Cancer Society (ACS) meets weekly in room B33 to help raise awareness and funds for cancer and its research.
ACS meets in the hopes of raising awareness for the cancers that plague the world. With 30-40 members religiously filling the classroom every week, ACS continues to grow and thrive with every passing school year.
Christy Hodson, English department chair, is the advisor of ACS. She inherited the club advisory position about five years ago, and still enjoys it today. "I've had to let other clubs and other responsibilities go, but I choose to not let go of the American Cancer Society club. I seem to feel an obligation and a duty to hang onto to this," Ms. Hodson said.
The American Cancer Society is a service oriented club that takes part in fundraisers such as Alex's Lemonade Stand– an organization that tries to raise awareness towards childhood cancer– and traveling to the Ronald McDonald House in L.A. to give patients care packages, often with inspirational quotes.
Emily Flores and Layla Alamillo, board members of the club and seniors, have been committed to ACS since their freshman year and have spent the past four years feeling nothing but pride for the club.
Flores, Vice President, originally joined ACS due to the personal effects that cancer had on a close family friend. She wanted to help out and provide support in anyway she could, not only for her friends, but also the many others who are going through the same struggle.
"American Cancer Society to me is a little bit more personal. I really want to help out more of the community," Flores said. "It's just something out of the goodness of my heart that I want to do." Having been a member of other clubs, such as Key Club and Mock Trial, Flores finds the difference between a competitive environment and one of pure thought and intention a very kind experience.
Alamillo, publicist of ACS for the past two years, joined for a very similar reason. ACS is a way for her to personally help those who were struggling and to help "create an environment to raise awareness about cancer and [to] support … those who have to eal with that in their lives, maybe indirectly or directly."
Alamillo describes the club as "welcoming" and believes that "everyone should join, even if they don't have an affiliation with cancer."
"Coming [into the club], I definitely think that our members are just really great people and our board is really welcoming. It'll be a very safe environment to just be yourself," Alamillo said.
Hodson agreed with Alamillo. "There's a temperament and a culture and a personality of maturity and wisdom [this year] and a kind of sober respect for what we're talking about," Hodson said. Though she would not at all label the club as "serious" or "stagnant," she believes that it is a great way to be yourself and let go of everything. "We go back to our inner child… that's the kind of energy I see in here," Hodson said.