Golden State Killer caught after decades of mystery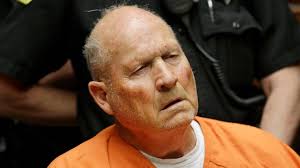 After a series of unsolved rapes, murders and burglaries, former police officer, Joseph DeAngelo, has been arrested. Police suspect that he was involved in the string of crimes in California during the 1970s and 80s. The press branded the criminal with various nicknames including East Area Rapist, Diamond Knot Killer and most infamously, Golden State Killer.
The murders were charged in Sacramento, Orange County, Santa Barbara and Ventura. District attorneys from the previously mentioned counties met to determine where the case would be processed. However, the district attorneys did not come to a clear decision at the meeting.
One of district attorneys assigned to the case, Richard Simon, currently coaches the gold Mock Trial team. Since a majority of the homicides took place in the Ventura County, DeAngelo will be tried under the county's jurisdiction.
Presently, it is up for debate whether DeAngelo's search and arrest warrants should be released to the media. However, the defense team has stated that the release of such documents could impact his right to a fair trial, but ultimately it is the judge's responsibility to make that decision.
Despite slipping under the police's and society's radar for over 40 years, DeAngelo's identity is slowly being uncovered by authorities. It has been discovered that he previously worked as a police officer who was fired after being accused of shoplifting. He was known by his neighbors in Citrus Heights as a recluse neighbor, according to CNN.
In the current state of the investigation, DeAngelo has been charged with eight homicides although the Federal Bureau of Investigation (FBI) believes that he is involved with an estimated 12 premeditated homicides and 50 rapes, according to The Independent.
After DeAngelo was captured by police, media outlets like the Los Angeles Times advocated for the release of the case documents detailing DeAngelo's arrest.
"The break in the case came when investigators searched a public DNA database and found a partial match to DNA found at the crime scenes," according to Pacific Standard. The DNA evidence was then put into an open-source genealogy website, ancestry.com, in order to form a family tree. The investigators then attempted to find a male that fit the description that lived in sacramento during the murdering spree and were then able to confirm him as the killer.