NPHS falls behind on inclusiveness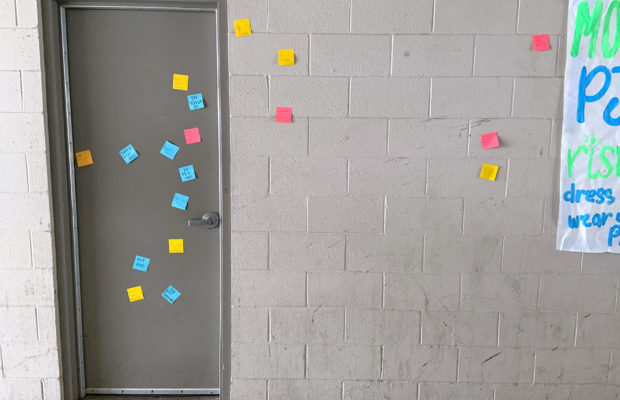 This past week, schools throughout CVUSD started celebrating Inclusive Schools week, a federal celebration that acknowledges and teaches inclusiveness and appreciation amongst our students.
Inclusive Schools Network, the sponsor, states on their website: "Inclusive Schools Week has celebrated the progress that schools have made in providing a supportive and quality education to an increasingly diverse student population, including students who are marginalized due to disability, gender, socio-economic status, cultural heritage, language preference, and other factors." While the goals of Inclusive Schools Week are certainly admirable, Newbury Park did not wholly accomplish what the Inclusive Schools Network set out to do.
On Monday, ASG handed out bracelets that said "You Matter" and encouraged students to talk to students they didn't know. On Tuesday, all students were asked to wear white to promote overall inclusivity on campus. However, many students were unaware of the message and relatively few people actually ended up wearing white. On Wednesday, ASG put sticky notes on a wall in the hallway, but the weather conditions caused them to quickly fall onto the puddled floor. On Thursday, there was a staff lawn chair lunch and a Student Development Lunch. Today, you were supposed to dress up in your school colors- look down, are you wearing them? We hope so.
Students would participate in more school activities if they were more actively broadcasted in advance. Activities could be announced on PTV, or on second period and third period announcements. Announcements could also be posted around the campus, in classrooms, on the marquee and in emails sent to both students and parents via Panther Tales or general announcements from the school.
Many students we spoke with were not aware that this week was Inclusive Schools Week. In the future, this important week should be advertised further in advance especially because the event happens directly after Thanksgiving Break. Newbury Park should work harder to include more activities during this important week with the goal of creating a more open school community. 
We enjoyed hearing what Westlake High School did for Inclusive Schools Week at this Tuesday's board meeting. According to students at Westlake, the activities were well received. Some highlights of their week included an assembly on Tuesday where Caley Versfelt, a Westlake graduate with Down Syndrome, and Cindy Liu, chairperson of SEDAC (Special Education District Advisory Council) and the mother of a child with Down Syndrome, shared personal experiences with the entire school, followed by a performance by the Sparkles Cheer Team. Performances by our very own Sparkles Cheer Team are well received by our student body. It's a moment when our students show true compassion and empathy. Rather than a Winter Rally, why not have a student wide assembly to emulate Westlake's success during Inclusive Schools Week? 
On Wednesday, students from the Learning Essentials Academic Program (LEAP) passed out cookies and stickers to inform general education students about their program, and a transgender student spoke about his experience at Westlake High School. The student body does not pay attention to gender diversity on our campus, and our LEAP Program is holding a Special Ed tea during second period where most students on campus will not be able to attend. On Thursday, English Language Learners (ELL) and the National Spanish Honors Society discussed the challenges they face learning English as a second language while living in a predominantly white community. The activities that Westlake held for its students would have also been beneficial for our student population. 
We recognize and appreciate ASG's efforts to recognize Inclusive Schools Week, but we do not feel that it was enough. It's no fault of their own; the responsibility falls on the school as a whole. We would be more successful in getting students involved if the clubs on campus were more active in these events. This won't happen on its own;we need to consciously work to make change. Inclusive Schools "Week" should be the kick off for inclusivity all year long.