Students spooked by Reign of Terror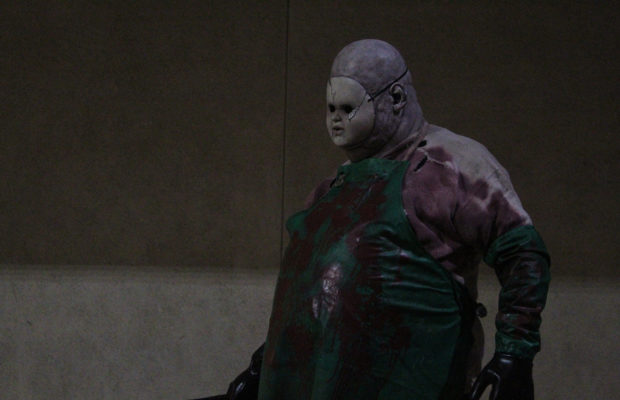 With fog rising, lights flashing and darkness blanketing every room, Reign of Terror is a walkthrough haunted house experience that can't be matched.
Reign of Terror was an incredibly scary experience because of the various sound effects, lighting changes and costumes used. The actors popped out, scaring people who walked through the house from all corners of the room and wore costumes of their designated attraction theme.
The waiting line, before the haunted house, was very long. Depending on the day, it ranged from 40 minutes to an hour and a half. Even though the walkthrough had not officially started, screams could be heard from the waiting rooms and outside. Some people who worked at the attraction walking around outside, bringing fright to kids of all ages, and a few adults as well.
In total, there were nine attractions and 115 rooms. The walkthrough lasted about 20 minutes and did a great job of keeping us on our toes. For each corner we turned, our hearts were beating faster. Although we knew someone was going to jump out and scare us, it was always unexpected, especially for those who are easily scared.
The tour started in a foggy room with a putrid smell, along with a bridge that dropped as you walked down it. Right off the bat, our adrenaline was rushing and the tour only got better from there.
The details of the rooms were incredibly intricate and realistic. On the walls of each room were handprints of fake blood, tattered pictures, and creepy objects which gave the attractions an intimidating atmosphere.
One of their best rooms was the inflated room. You had to find your way through… We loved the texture of the blow-up mattress used to coat the walls of the room, and it gave us the fearful feeling of claustrophobia.
Another room that gave off a hypnotic sensation was the room with a rotating tunnel. As we walked on a platform across the room, an entire cylinder rotated in a circle around us making it extremely hard to walk in. This room added an unexpected twist to the haunted house as a whole, because it diverted from the jump scares and brought us a new level of fear and discomfort.
The haunted house was thrilling and although it has ended, should be visited in the future by people looking for a spooky, interactive experience. There were many strobe lights, so people who are prone to seizures should not attend in the future. Overall, Reign of Terror provided us with scary, unforgettable haunted house attractions and although you will probably lose your voice from screaming, it is a visit you won't regret.