Man shot dead in Oxnard police involved shooting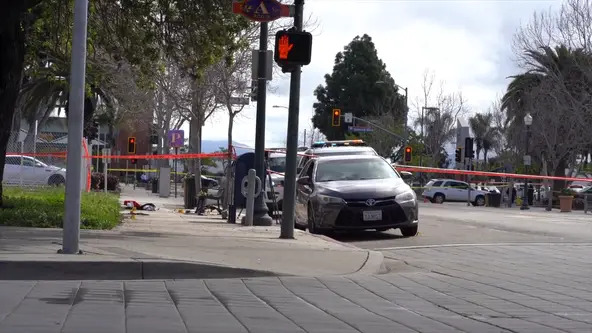 On Sunday, March 12, 60-year-old Adam Barcenas died in an officer-involved shooting in Oxnard. At around 6:00 a.m., officers were conducting a DUI investigation when Barcenas, who was not part of the investigation, advanced on the officers with a 5-foot-long steel bar.
In a bodycam video released by the Oxnard Police Department, the attacker is shown screaming "I hate pigs" while charging at the three officers on site. Officers Alexus Santos and Bryce Parker drew their tasers, while Officer Shayn Schwartz drew his firearm and fired four shots at Barcenas, according to an Oxnard Police Department release. Santos fired her taser, but it did not penetrate Barcenas' skin.
The officers administered first aid on Barcenas until paramedics arrived on scene, after which he was rushed to Ventura County Medical Center, where he was pronounced dead at 8:30 a.m.
All three officers involved in the incident have been placed on paid administrative leave, a standard procedure for officer involved shootings. In the case of fatal officer-involved events, the department runs three separate investigations. In a news release on the incident, Oxnard Police Chief Jason Benites, commented on this procedure. "First, the Oxnard Police Department's Major Crimes Investigations Unit conducts a thorough investigation of the entire incident. Once completed, this investigation will be submitted to the District Attorney's Office for legal review, " Benites said.
Benites also describes the second and third procedures, which are an administrative investigation into the officers' actions by the Professional Standards Division and an investigation to determine whether the use of force would be classified as justifiable homicide by the Ventura County District Attorney's Office.
The three officers, who have been working for the Oxnard Police Department and other police departments from at least 2020, have not previously been involved in a shooting incident.