Seniors start the year with a sunrise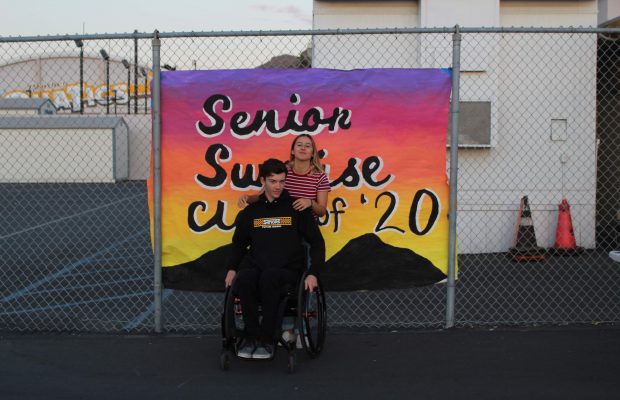 On Sept. 6 from 5:00 a.m. to  6:40 a.m., the senior class of 2020 gathered at the bleachers of the football field to watch the sunrise together. This is the first time NPHS has ever had a senior sunrise. The event was coordinated by the senior class board, AJ DeVos, Emily Nagamoto,  Kyle Wonders and Nikki Usares.  
As president, DeVos took the lead in coordinating the event and making sure everything ran smoothly."A lot of work went into preparing for senior sunrise because it was the first event of the year" DeVos said. "It was an amazing turnout. I think everyone had a lot of fun. The performers were all great, and the sunrise was beautiful." 
For the last performance of the event, Evan Metcalf, senior, sang "Here Comes the Sun" by the Beatles while Ryan Younes, senior, played electric guitar.
"I usually don't want to show my voice to people because I'm shy, and then (Younes) just went into the center and wrote my name down without my permission and here I am," Metcalf said. 
"Regarding all the singers, like Liv (Udall) and Evan Metcalf and Ryan Younes, I thought they were very good," Jackson Rice, senior and attendee of the event said, "I found a lot of my friends and…I really liked how they gave free food and drinks out." 
With coffee and donuts in hand, the class of 2020 watched the sun emerge from the horizon. "I think this was just a really great way to start off senior year," DeVos said.