Special Olympics brings the schools together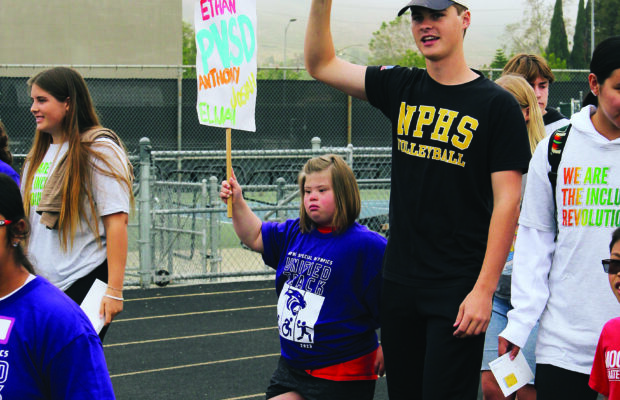 On May 20, Newbury Park High School's football field was overflowing with joy brought by the students who participated in this year's annual Special Olympics. The event was organized by National Honors Society (NHS) and included over 100 athletes with disabilities from various Ventura County schools. Members of NHS set up activities including long jump, softball throw, 25-meter dash, 50-meter dash, and 100-meter dash as well as game booths such as coloring, ladder throw, football obstacle course, face painting, cup stacking, and cookie decorating.
After participating in Special Olympics 11 years ago, Anne Alvarez, NHS advisor and special education teacher, realized the event was not run in an efficient manner. She decided, with the help of the administration, to start hosting Special Olympics at NPHS to create an improved environment. "I view Special Olympics as an opportunity to introduce all students to sports and training while including acceptance of all as well as building lasting friendships," Alvarez said.
Soniya Patel, senior and president of NHS, was in charge of leading this year's event by finding volunteers, designating them to certain activities, and making sure it ran smoothly overall. After being a part of Special Olympics for three years, her final year organizing Special Olympics went better than imagined. "On top of everything running so smoothly, so many of Newbury's students wanted to volunteer even if they weren't part of the club," Patel said. "People should get involved with Special Olympics because it really is such an uplifting and inclusive event."
Kate Roeder, senior and NHS treasurer, was one of the many organizers of this year's Special Olympics that helped make for a successful day and event. As she finishes her last year at NPHS, she encourages students to continue volunteering and making a difference for the special education students. "This event is so special and the opportunity that NPHS students have to participate in it is incredibly special and should be taken advantage of," Roeder said.
After another successful Special Olympics event, Alvarez feels overjoyed with the love and support the community provided to make the day as special as possible for the athletes who participated. "I am still smiling from Saturday. This is such a special event to me and the students and staff really stepped up," Alvarez said. "The smiles on all the participants' faces brings joy to my heart. I feel like they all feel so special and now all our hard work paid off.