Strings strikes a chord with the audience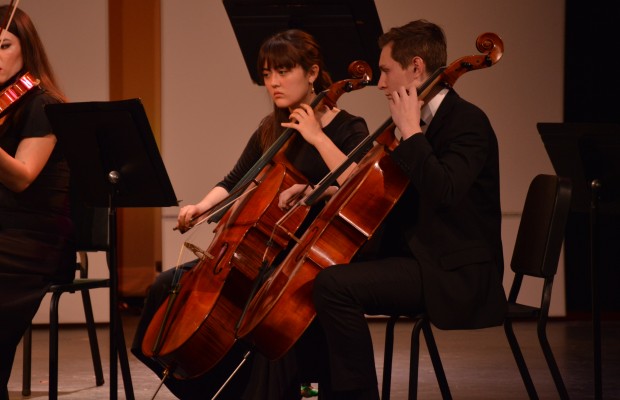 With instruments tucked under a chin or grasped between knees, they lift their bows gracefully. Only an inch of space hovers between the bow hairs and the coiled metal strings. Silence fills the room. The conductor's raised hands quiver above the players' intensely watching eyes.
Then, his hands swoop up and drop, bows meet strings, and the music of the NPHS orchestra fill the Performing Arts Center with reverberating melodies.
The beginning strings, fifth period strings, and advanced chamber orchestras held their winter concert in the PAC on Friday, Dec. 4, accompanied by members of band and choir. With primary conductor and music theory teacher Tina Huang away on maternity leave, orchestra members found themselves leading the planning of the concert and adjusting to the style of interim orchestra director Michael Doty.
"(It's difficult) walking into someone else's program as a person who's not going to be permanently there and trying to figure out what it is that they are expecting from their students, and trying to put myself into her mindset and carry on to the best of my ability," Doty said.
Despite the change in leadership, students continued to learn from Doty.
"Doty is very experienced with music so we didn't lose anything at all. He has a lot of new ideas and he is shaping our playing in a new way," Anna Cismaru, senior and violist, said.
Students such as Victoria Pacheco, senior in chamber orchestra adjusted well and have learned from this new experience.
"At first it was kind of hard to get used to it. I've only ever had Mrs. Huang as a teacher in high school," Pacheco said. "But Mr. Doty is really great and he's been a really good teacher."
While Doty was originally trained as a trombonist, he has previously substituted as a strings orchestra conductor at Thousand Oaks High School. Since then, he has noticed differences between the two types of instrumentation and trained himself in teaching for strings.
"Wind music requires air. Strings music requires bowing to produce the sound. It isn't that much of a change," Doty said. "The fun thing about strings is it's visual. You can see the production of the sound using the bow whereas air is invisible….with a string player you can see what's the problem."
While Doty admitted to several struggles during the concert, overall he regarded the night as a success, as did the students, who led the planning of the concert with the help of the PFA.
"We sold a lot more pre-sale tickets, which is a huge victory, almost a full house and probably the biggest crowd we have had," Cismaru said. She began playing the viola in the Sycamore Canyon Middle School orchestra, and has played in four winter concerts as a member of the strings and chamber orchestras. "I genuinely feel that was the best concert we have had since the orchestra was started in 2013."
The concert program included "Cantique de Noel," "Shepherds' Farewell from L 'Enfance du Christ," and "Movement I From Gloria." The stars of the night were the chamber orchestra members, senior instrumentalists who blew the audience away with their philharmonic melodies.
"The chamber orchestra is perhaps the most musically accomplished school group I've ever been in front of." Doty said, "It was a challenge for me to challenge them with not only literature that they could sink their teeth into and get away with performing well, but to insist that they perform it well and get after them for the little things."
The winter concert was Doty's last and only performance with the NPHS strings groups, as Huang returns after winter break.