TO stands united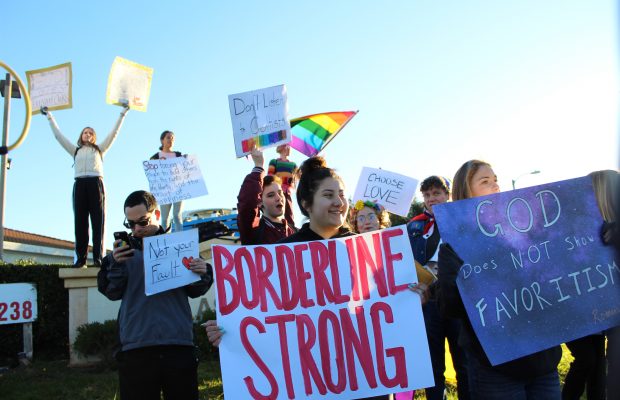 On a brisk Monday morning hours before the start of the school day, Conejo Valley students gathered together protesting the Westboro Baptist Church's presence outside of Thousand Oaks High School.
The Westboro Baptist Church (WBC), an Old School Baptist Church located in Topeka, Kansas, was there protesting the "sins" of the Thousand Oaks Community. They preached that California experienced the tragedy of the Borderline shooting and the wildfires due to God's wrath.
Dressed in rainbow and carrying signs advocating for love and equality, approximately 100 students stood on the corner of Moorpark and Avenida de las Flores. Police and school administration kept the two groups far from each other to avoid any type of confrontation.
"I went because I wanted to show my support for TO and everybody that the WBC is against. I think I gained a new appreciation for my community because I went," Mina Schwind, senior who attended the protest, said.
It was important to many people that attended the event to show that the beliefs of the WBC will not be tolerated in our community. Attendees showed their love for all community members, including those who identify as LGBTQ+, are Jewish or Muslim, are veterans or are anything else that the WBC hates.
"Standing up for yourself and your community is one of the most important skills to have in my opinion," Shannon King, another senior who attended the protest, said.
Students, parents, college students and community members came to the protest to show the love they have for the Thousand Oaks community.
"So many people from all different walks of life came to show their support and it made me so happy and proud to see that. I think the church and their beliefs are absolutely disgusting and that they have no place in our world today. There's really no excuse for being so hateful and harmful to everyone who doesn't exactly conform to their image," Schwind said.