Ukrainian refugees adjust to life in Thousand Oaks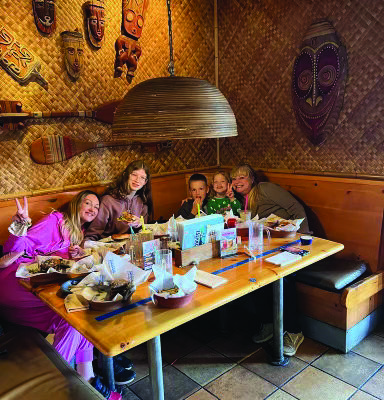 **Quotes from Yuliia Kurta have been translated by Danila Paskevic
On Feb. 24, 2022, Russia invaded Ukraine. As of May 2023, about 125,000 Ukranians have suffered casualties, and another 8.2 million citizens have been forced to flee, leaving everything behind to seek shelter in another country. Although this tragedy may seem a world away, it quickly becomes intertwined with our community and the population of Thousand Oaks, as many Ukrainian families have been forced to flip their life upside down and start again here, building from the ground up, with language and cultural barriers putting them at a disadvantage at every step.
Yuliia Kurta moved to the United States 14 weeks ago along with her immediate family, saying goodbye to many of her friends and relatives, who are still waiting in their devastated homeland. The Kurta family arrived in the new country filled with the hope of brand new possibilities, however, once their plane touched the ground, they immediately encountered a multitude of challenges. "It was really tough coming here… when [we] got here [we] had no home… no car so… [It was] scary because [we] didn't know anyone," Yuliia said.
Despite the many complications that the Kurta family has faced, they have been able to look towards their former host mother, Cherie Phoenix, for guidance and security throughout times of hardship. "It's not easy going to a foreign country where you don't speak the language and you have no money, and you just land in the middle of Los Angeles and go, 'Oh my God. What do I do now?'" Phoenix said.
Despite any initial turmoil that the group experienced, everyone eventually found balance with one another. "[Hosting] was a lot to get accustomed to. I felt more like a grandmother than just a host and the kids would want to play with me while I was cooking in the kitchen or they wanted to do things with me. We all became one big happy family," Phoenix said. "I think it's really important that people understand why refugees come here…they're coming here because they were being bombed and killed, and they need help."
Since their arrival, Yuliia and her three children, ages five, nine and 14, have been working tirelessly to adapt to their new lifestyles, by practicing English and doing their best to adjust to cultural differences. "[My] kids [are] doing really well in school. They're studying hard and there [are] some kids that are helping [them] with learning and translating," Kurta said.
In addition to sheltering refugees, Thousand Oaks citizens have been able to assist those still living 6,438 miles away. Nita Hanson, originally from Thousand Oaks, founded the
organization "God's Hidden Treasures," which works to serve the needs of the poor, afflicted and orphaned Ukranians by providing them with equipment such as wheelchairs, resources and emotional support. "[Members of the organization] sit down and we get to know them, and then we kind of make them part of our family. So that means we follow up, keep in touch with them, do home visits, normally we have picnics in the park," Hanson said.
The Kurta family is appreciative that their family was able to come to America, and they intend to stay within the States throughout the duration of the war and have many plans for their future. "It's scary coming to America, not knowing anything and it's really hard to be here but there's help, there's always help," Kurta said.