Wellness center saves the week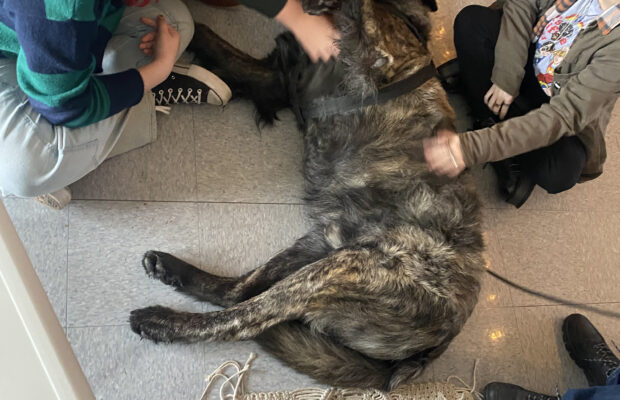 From Jan. 9 to the 13, NPHS hosted a Wellness week, featuring two self care and hot cocoa days, a therapy dog, kindness yoga and a movie day. With student help, Paige Pensivy, Professional clinical counselor and Mental health clinician , created an environment for people to destress before finals.
Throughout the week, students could go to E3 to decompress while in the company of fellow classmates. "Monday and Friday were both self care and hot cocoa [days]. So we did coloring pages and we had a hot cocoa bar and tea bar, and then Tuesday was a therapy dog day […] Wednesday was kindness yoga. So we had a student who uses mindfulness and meditation just like in his daily practice […] And then Thursday was movie day. So we had "Inside Out" playing, and we had popcorn and things like that," Pensivy said.
Emily Klein, senior and student member on the Wellness Club board, was tasked with retrieving supplies and organizing with ASG to help set up the event. After having an eventful week, Klein feels that everyone benefited from it. "It was to reinforce the idea that if you're stressed you can come into the Wellness Center and there's someone to talk to," Klein said.
Odin, Richard Napora's dog, was the main event of the week. Going beyond the Wellness Room, Odin visited Danielle Ellis' room, as well. Since 2017, Napora has been using Odin to help bring joy to others. "I wanted to give patients at Kaiser and passengers/staff at LAX and students in schools the opportunity to pet dogs as a form of therapy. I have three therapy dogs and they often go to various places in their therapy roles," Napora said.
With more school resources available for students, and help from ASG, the Wellness Center accomplished a successful week. "I think it went really well, especially for the first one we had, 200 kids a day coming through. […] And it was really cool because the LEAP kids were able to come in and see the therapy dog and they were also able to come and enjoy the movie with all the other students in the Wellness Center and so I thought it was a really great way to integrate like the whole student body not just the people that usually use the wellness center," Pensivy said.
The staff and board of the Wellness Club feel the event had a very positive effect on all students that came. "Everybody had really positive things to say and everybody left a little bit happier than when they came in," Pensivy said.