Houston Kraft preaches kindness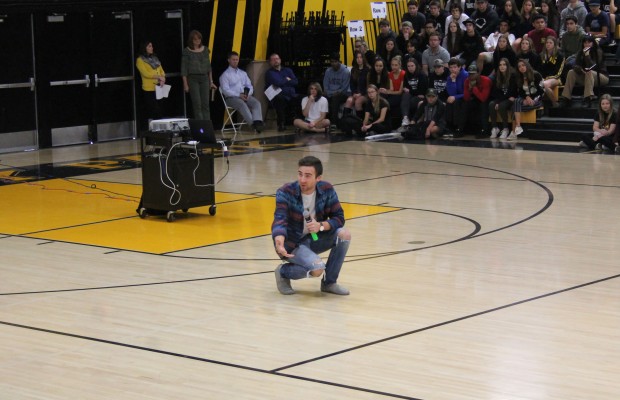 Kindness. Such a simple word can hold so much value to a person. People all know what the word means, yet rarely do they act on kindness in their everyday lives. Motivational speaker, Houston Kraft, shared his message of kindness to the student body at an assembly on Feb. 1, through a telling of personal stories with a mix of humor and earnesty.
Kraft was first enlightened by helping others his junior year in high school through the Random Acts of Kindness Etc. club, or  "RAKE."
"My goal was to get remembered for anything. I wanted to be remembered for making people feel valued, and making people feel important. Those are the moments we don't forget: Moments in our life, where someone makes us feel loved, or unloved," Kraft said. "We remember that, and I wanted to give people as much of those moments as possible."
Rachel Brown, senior and Associated Student Government president, first heard Kraft speak last April at a leadership conference. It was Kraft's "energy and positive attitude" that influenced her to invite him to speak at NPHS.
"Our school is really great, but sometimes we miss some of the small things like having the kindness, the compassion, and the love. I thought (Kraft's) message was really relatable. I think everybody can use a little more kindness in their heart, and a little more love in the world- regardless of who you are or what you're into. I felt like that was a good message for NPHS to have," Brown said.
Kraft believes kindness and compassion is not an unreachable standard in society, but rather something people acquire through experience and growth.
"I really believe that love and kindness are skills in our life. Sometimes they get portrayed as virtues or ideas, which I think is dangerous. It's hard to work on a virtue.  If I think of kindness as a skill: it's something I can practice, I can get better at," Kraft said.
Maddy Wiese, sophomore, was deeply touched by Kraft's words, and found it light-hearted at the same time. She believes that practicing kindness will only radiate positive energy and contribute to a positive school atmosphere.
"Kindness unites everyone, so it doesn't matter who you are being kind to, it is going to ripple across to everyone," said Weise.
However, practicing kindness is not always second nature. Like most people, Brown will not always "step out of the box" to say something nice to someone.
 "I realized you think about (being kind), but you don't actually act on it. Hearing (Kraft) kind of gave me the inspiration to make the effort of making someone's day," she said.
Weise also agrees that Kraft's words motivated her to try and make a person's day a little brighter.
"Something small makes a difference," Weise said
Kraft has started a leadership curriculum that teaches young people, like Brown and Weise, how to practice kindness in their everyday lives.
"We have a leadership curriculum and a full school curriculum, and we started teacher training. We teach teachers, principals, and counselors how to create a community that's built in character and compassion," Kraft said. "Over the next few years, that will be my big focus."
Alongside the new curriculum, on Kraft's website is a link to an app called Character Strong.
"Character Strong is…a daily challenge. Everyday it'll send you a push notification with a simple practical way to exercise love in your life," Kraft said.
To hear more about Kraft's movement, you can visit his website houstonkraft.com or see him live in Los Angeles during his upcoming kindness tour in May.