Boys' LAX beats opponents to the MAX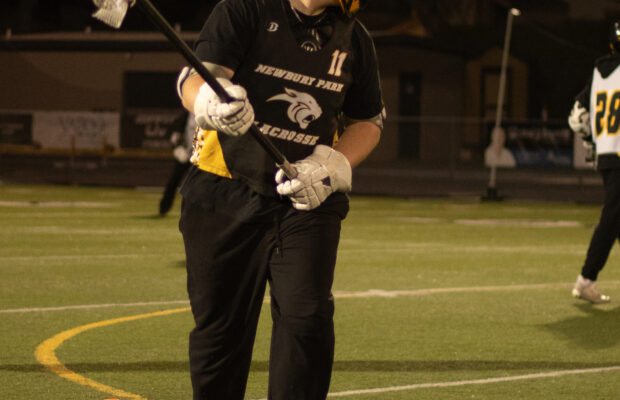 Adrenaline rushes into players' bones as the ball soars quickly into the back of the net. Cheers roar throughout the stadium and the final swoosh is made, signifying yet another step towards victory. The NPHS boys' lacrosse team strives to feel the everlasting rush of success, working hard and preparing themselves for games while also building connections with each other. The team's season kicked off in Jan. and new mindsets, methods and aspirations will flow throughout their season.
Waiting to see how the team's hard work will play off is one of the most exhilarating and nerve-wracking parts of coaching. With many new faces on the field, Tyler Kemeny, varsity head coach, looks into the future with a positive spin. "We have a younger team. So some of the concepts are a little more at the beginner level, but we're trying to master those concepts and ensure that, no matter who gets to step onto the field, they're aware of what we're trying to do as a team," Kemeny said. "I want to build on last year [and set] higher standards for everyone including myself."
The team does not only have Kemeny to look to for guidance. Travis Lee Hooker, senior, hopes to make his year as captain count and be a role model for the younger players. His goal is to be able to encourage those around him and push them to work harder so that years from now, Hooker's contributions will remain intact. "I'm always trying to work as much as I can and I motivate my teammates to get better by just telling them to shoot back on the road and stuff like that," Hooker said. "Once you see your success and what you're doing clicks, it's the best."
Cyrus Dael, sophomore, has not only grown as a player through lacrosse, but has acquired a mentality that will benefit him throughout his life. "The mindsets that we have to have are always focusing on working as a team, putting a hundred percent into our games, and leaving our mistakes in the past and not worrying too much about them," Dael said. "Even if we make mistakes, lacrosse has taught me that we can always bounce back."
Hooker is proud of what the team has already accomplished and looks forward to seeing their goals come to head. "I'm feeling pretty confident in myself and in my teammates, because I know we've been working hard over the offseason," Hooker said. "[I'm] just trying to keep the leadership up in practice as much as [I] can and just bring that skill up every day."
Many players hope to see results right away, but improvement takes time. Through this, patience is instilled amongst many and those who understand, who persevere, will succeed. "If you improve a little bit every single day, you might not notice it in three weeks. You might not notice it in two months, but over the course of a whole career in high school [the improvement is huge]. You can go from being a third-string guy, to a starter, to scoring a bunch of goals," Kemeny said.