Boys' tennis slices into the new season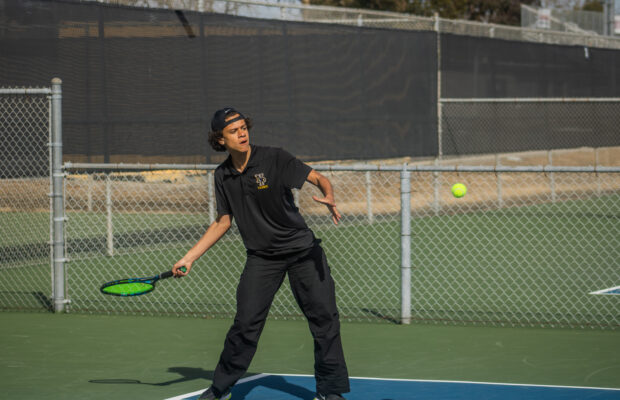 As spring sports are coming into full swing, boys' tennis is preparing themselves for the season ahead, through preparation in matches and practice. Their season begins in a few weeks, and with a new team, they are ready to start their season off with a bang.
Richard Kick, head coach of the team, is excited about this season's prospects and is very confident in the potential of players. "This current season has started wonderfully well. We have only won one out of the three matches, but the three matches have been very competitive and our skill level is very high this year," Kick said. "It's a great pre-season and I'm very much looking forward to getting into the conference and showing players how they can attain their goals."
Last year, the team lost in round one of CIF, but this year, they have high hopes for improvement. Joseph Bonn, sophomore, has been playing on the team for two years, and is excited for this year's prospects. "I think we're capable of great things. Last year, we did get a wildcard for CIF, and it was a narrow loss in the first round. But we're coming together," Bonn said. This year, their team is strong statistically and are looking to achieve great things. "It [their strength] shows and comes together when we can all just play with unity and dedication," Bonn said.
This season, the tennis team has also exploded in size, with a large addition of underclassmen. Ronak Santhosh, senior and captain of the team, believes this increase will benefit their team overall. "This year we have a lot of new participants, and quite a few freshmen and sophomores. We look to strengthen our team in our doubles and it's going to get way stronger than ever before," Santhosh said.
With the influx of new players and the upcoming season, players need to be prepared for both the physical and mental aspects of the game. "The mental aspect of tennis is as important as physically hitting the ball, [players] have to understand this, because hitting a ball on a normal point, versus a practice point versus hitting a ball at a game point, a set point, or a match point are very different circumstances," Kick said. To prepare for competition, students perform drills that prepare them for key moments in matches. "It's just a matter of experience. The more you do it, the more you're able to in actual match circumstances," Kick said.
The large increase in players has also brought new challenges, but the team is confident in their ability to push past them. "Right now, some people are missing games. We've had a lot of missing players who've caused some dysfunction on our team, " Bonn said. Even with these hardships, Bonn and the rest of the team are confident in their ability to prosper in the upcoming season.
Overall, the team has a strong sense of kinship and has high potential for this season. "I absolutely love this year's group. They've not only played tennis well, but they've also helped each other out with statistical analyses. They take stats on the matches. They talk to each other about strategies. It's just been a really positive good group of players and very much looking forward to the rest of the year, " Kick said.