Girls' beach volleyball sets up the season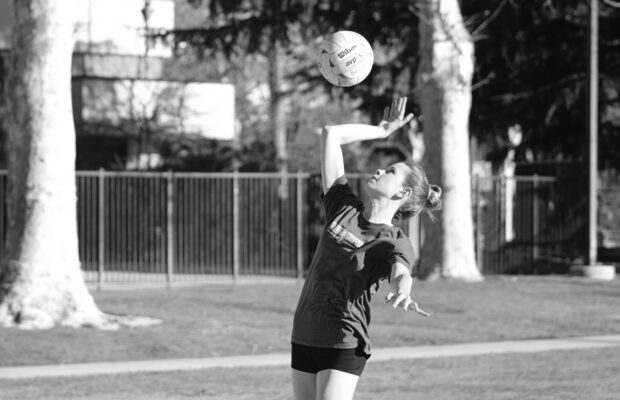 With the sun beating down on their heads, and the sand hot on the ground, the NPHS beach volleyball team walks onto the court, ready to secure a win.
Ariadna Coll Bech, senior, acknowledges the team's working to achieve their goals by practicing."On Tuesdays, we do drills and conditioning, which includes running in the sand. Then on Fridays, we do scrimmages within our team to see who gets to compete in the tournaments, which we have twice or three times a month," Coll Bech said. George Hees, head coach, plans each practice to work on specific skills. "We've been able to try to see pretty obviously things we need to work on. So we try to work on those skills and reinforce our strengths," Hees said.
Besides the rain canceling matches, the beach volleyball players have learned to adapt to the wind. "The wind can shift the ball a lot depending on if it's windy so you have to really coordinate with your teammate. Moving in the sand is also really tricky, so it's something else to be wary about," Coll Bech said. Maddie Byrne, junior, discusses how the team changes strategies to prevent this. "We adjust to the wind by keeping the ball lower and hitting into the wind. Playing in difficult conditions teaches a lot of ball control," Byrne said.
The players also enjoy their sport's uniqueness, as well as some of the traits that make it different from indoor volleyball. "Compared to indoor volleyball, you have to be good at everything. [In] a lot of other sports and especially indoor, you can specialize in one area. And I love the mental part of it. You have to read what the other team is doing and figure out how to capitalize on every play," Hees said. The athletes also note the main differences between beach volleyball and normal volleyball. "There's only two players, and it's on sand, which is much harder to move around in, so you have to get everywhere. Whereas in indoor volleyball, you're in a set position and don't have to move as much," Coll Bech said.
Players enjoy making new friends on the team and strengthening their sportsmanship. "I enjoy bonding with teammates, and because we spend a lot of time around each other, we're able to form good friendships with each other," Coll Bech said. The friendships built within the team contribute to a friendly and positive environment, which coupled with the team's competitive spirit allows for the team to improve, watching as their score grows higher and higher.