Jenny Finger recognized as Lakers' student of the month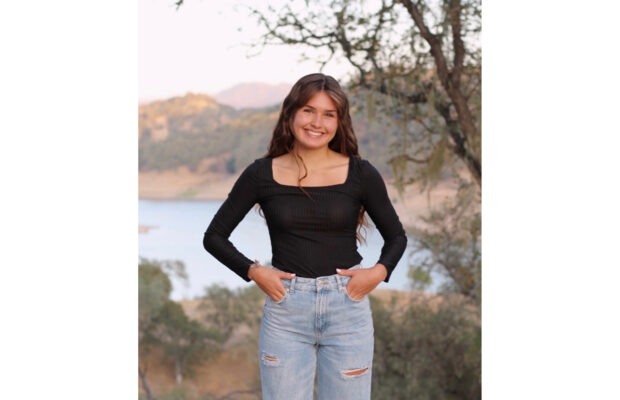 Many students can only dream of being recognized by a major sports team. For Jenny Finger, senior, her personality and commitment to the community allowed this dream to become a reality.
The Lakers' student of the month recognition is given to four outstanding students from the greater Los Angeles Area every month of basketball season. Students are nominated by teachers at their school based on exemplary efforts in academics, athletics and community. Finger was nominated for this award in March of 2020, but COVID-19 caused its cancellation until this month, when Finger was ultimately awarded recognition.
Finger has spent the majority of her high school experience trying to create a more inclusive environment for the special education students at NPHS and was pleasantly surprised to hear that she had won the award. "When I found out I was nominated for this award I was super surprised. Being nominated for this award made me realize how much support I have. But it made me feel really special. I think my effort to make a difference made me stand out from everyone else," Finger said.
Anne Alvarez, special education teacher, took part in nominating Finger for the award. Alvarez had known Finger from her involvement in the special ed programs and her commitment to making NPHS a more inclusive school. Her inclusivity influenced Alvarez's decision to nominate Finger for the award. "During her freshman year, Jenny got involved in the Sparkles cheerleading and became a mentor to the special needs students. She also became involved with Unified Sports and helped train the athletes to compete in different sports and they competed against different high schools," Alvarez said. "She also became President of Unified Sports Club and has continued to hold meetings and keep the students involved via Zoom this whole year."
Richard Bradley, social sciences teacher, was also involved in submitting the nomination for Finger's recognition and has been recommending students for this award for the past couple of years. Every year, Bradley looks for specific traits in a student eligible for the award. "I'm all about moral courage, integrity, compassion, somebody who's obviously great in terms of their grades in the classroom but somebody who contributes to the school in such a positive way and then somebody who volunteers in the community," Bradley said. "I really look for people who are all around great kids and we actually have a lot of those at Newbury Park High School, but in my eyes, Jenny just stands head and shoulders above everybody."
Alvarez raved about Finger's character and personality, emphasizing how kind and caring she is to everyone. "[Finger] does not tolerate injustice and she stands for all people being treated equally and fair. She has worked hard to make sure that all students are included at NPHS and absolutely deserves this award and honor," Alvarez said.