News in Brief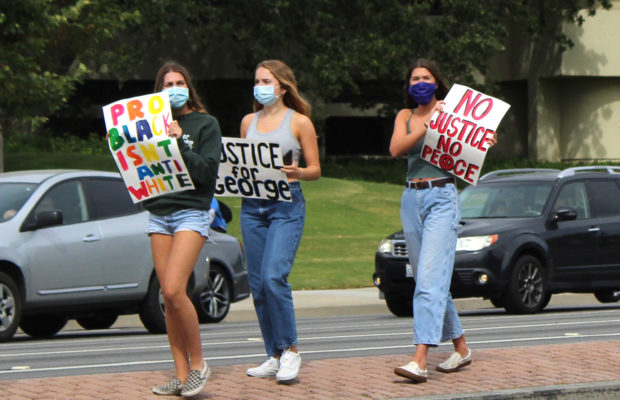 Seniors and parents protest for in-person graduation
On May 22, parents and seniors from across the district called for an in-person graduation ceremony during a two hour protest in front of the Ventura County Government Center. Seniors were encouraged to wear their cap and gowns, and cars honked in support as they drove by.
The protest gained traction on Facebook, where some parents verbalized their support.The Facebook banner included the event's details, such as "Let's demonstrate to our Ventura County Officials that we stand with the class of 2020," as well as "Everyone must wear face masks and abide by social distancing guidelines."
Sarah Wang is TO Youth of the Year
On May 21, 2020, the Thousand Oaks Acorn announced the TO Youth Commission winners for the Thousand Oaks Youth Awards. Among them were Leslie Blanco, junior, Jack Muir, senior, Emily Nagamoto, senior, and Sarah Wang, senior. Wang, pictured, was awarded Youth of the Year.
"Each year the City honors Youth volunteers for their contributions to the City. It is with deep gratitude that we recognize the following students for dedicating their time, talents and creativity to hundreds of clubs, organizations, schools and events," the article said.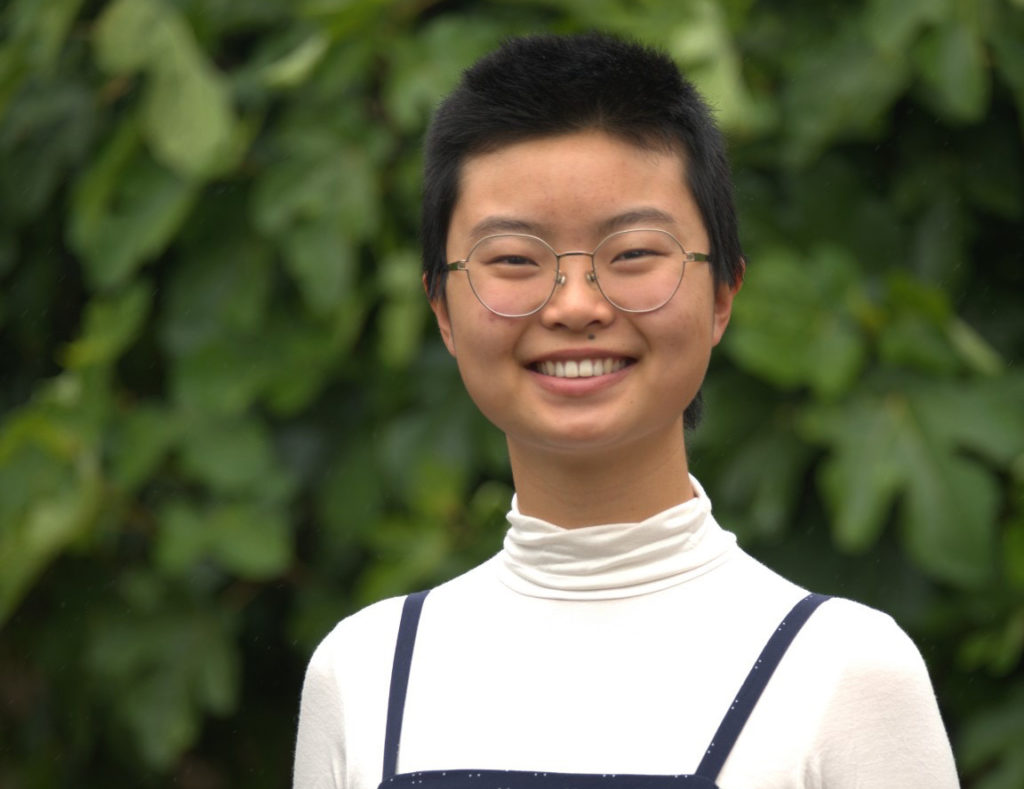 Pictured above – Sarah Wang, Thousand Oaks Youth of the Year. Sarah Wang/With Permission
Community protests police brutality
On May 30, community members, including seniors Olivia Luby, Isabella Steele and Mary Grosswendt, pictured above left to right, congregated at the Westlake Promenade to protest police brutality against minority groups in this country. 
The protest ended up yielding hundreds of participants. Cars honked as they drove by, showing their support for the cause, and protesters held up signs such as "Black lives matter" and "I can't breathe," a reference to the brutal murder of George Floyd by a police officer in Minneapolis on May 25.
Eleni Vodantis, junior, also went to the protest. "I know that there is not much I can do as an individual to evoke change, however getting out and protesting was a start to make me feel like I can make a difference."
There were multiple other protests in Newbury Park subsequently.
AJ de Vos writes letter to class of 2020
On Saturday, May 16, AJ de Vos, senior, was able to share her letter with the state of California through the "Graduate Together: American Honors the Class of 2020" virtual ceremony. 
"I encourage my peers to not hide their feelings and tell themselves 'others have it worse,' but instead express your feelings to the huge support group you have within this class," de Vos said.
Here is De Vos's letter:
To the Class of 2020,
I am writing this to you out of love for our class and sadness for the things we have lost. This is a time to validate our feelings, to mourn what was once in our grasp. Feel deeply and fully, your emotions deserve to be processed. The news that was announced that all Ventura County Schools will be closed for the rest of the school year was heard throughout our area. But to you and me and all seniors, it means we will never return to our high school. That we walked the halls of Newbury Park High School as a student for the last time, and we didn't even know it. That the events we were anticipating and the moments we dreamed of were cut short. The simple truth is, this is heartbreaking.
I met some of the most unique and compassionate people at NPHS, and I'm sure many of you can relate. The classrooms are full of memories and the hallways filled with emotions. Leaving middle school, I was scared of the change high school would bring, but excited for the possibilities. I didn't know what to expect, but I was not disappointed. I experienced kindness from new friends and challenges from new teachers. I remember rushing to the cafeteria to get "our table" when the bell rang for lunch, making ice cream in chemistry class by shaking a plastic bag of ice until my fingers were numb, having fast-paced debates over the symbolism in Lord of the Flies with Mrs. Denchfield, chickens running around our quad, the excitement of the PTV intro music, the awe of watching US Army Golden Knights parachute onto the football field with our game ball.
Newbury Park High School overflows with memories for all of us. It is where we learned more about ourselves and the world around us. Where relationships formed and reformed again as you experienced highs and lows together. We learned more than algebraic formulas and persuasive essays from our teachers. We learned how to respect one another and value those around us. We learned the value of ourselves.
It was a different experience for all of us, but we went through it together. And we will go through this together too. You are not alone in feeling robbed. You are not alone in mourning. Talk to someone about what you're going through, and reach out to others. You have other people in your life who can wholly understand what you're going through right now, and that is a rare thing.
This is my virtual hug to my senior class, because you all deserve one. I am grateful to each and every one of you for bringing me smiles and new perspectives. For challenging me and being honest. I am looking forward to seeing where all of you go in life. I have a feeling amongst you are teachers who will change lives, artists who will inspire creativity, engineers who will invent amazing new technology, nurses and doctors and therapists who will save lives. I am proud of every single one of you for making it so far, and I have complete confidence that you will go even farther. We are stronger than we know, this is proof of that.
This is the kind of situation that you think could never happen to you, and when it does, it is surreal. But I know we will get through this. We will have stories to share and advice to give. We will use our experience to encourage others and move forward with gratefulness for the things we do have. This is a time to physically distance, but not socially distance. Reach out around you, we are in this together. Share your favorite memories with each other. Write letters to your favorite teachers. We still have the ability to finish out this year strong, and I trust that we will. Thank you, Class of 2020. Stay safe. Stay connected.
Sincerely,
Abigail de Vos
2019-2020 Senior Class President