SDAC speaks out for CVUSD students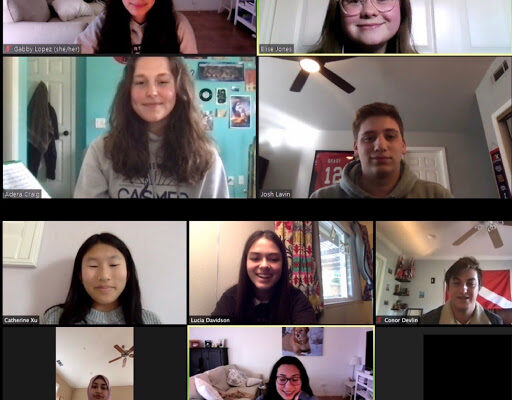 The Student District Advisory Committee (SDAC) is in their second year as a committee of 20 students within the five CVUSD high schools. SDAC provides a voice for students in the district to find solutions to district-wide problems. 
Elise Jones, junior, is the head of the publicity subcommittee. Jones is in charge of managing SDAC's Instagram and helping the rest of the group create their monthly student newsletter. "I post on [Instagram] periodically about any events that we're having such as mental health conferences, any updates from our student's district meeting," Jones said.
SDAC held their annual applications for students who are interested in joining next year. They were looking for students who are heavily involved in school and can bring new perspectives to the table. The goal of SDAC's applications is to find the best candidates to recruit that are going to use their voice for the other students in the district who cannot speak up. For eligible applicants, the first round of interviews will be conducted shortly within the next month. "We want to hear from people from all across campus and you don't necessarily have to be the best student, you just have to have opinions that you can bring to the table and that we have all the voices heard," Jones said.
As a member of SDAC's executive board and chairperson of the mental health subcommittee, Michael Lindroth, junior, feels glad that he is able to help grow the students' voices in CVUSD. "SDAC is really a way to be more involved in my community," Lindroth said. "I really enjoy being able to provide change in the district, and I really work to make improvements in our school." 
Adera Craig, a senior at Westlake High School, is the SDAC chairperson and the district's student board representative. Craig is often seen giving the student input on issues at the CVUSD board meetings. "It has definitely been hard this year to get students' opinions and since, you know, we're online and we're not with our peers as often," Craig said. Due to COVID-19, SDAC faced the tremendous obstacle of finding new ways to reach out to their constituency of students and listen to their concerns and opinions. "I definitely think we've adapted and used social media and we've done everything that we can to get diverse opinions," Jones said. 
The committee collects diverse student opinions to present to the board of education. "It's really given me a purpose throughout this whole year, especially during this pandemic and everything has been super crazy, it's been just such a great committee for students to advocate their voice and actually be heard," Craig said.