"Wednesday" is as spooky as it is genius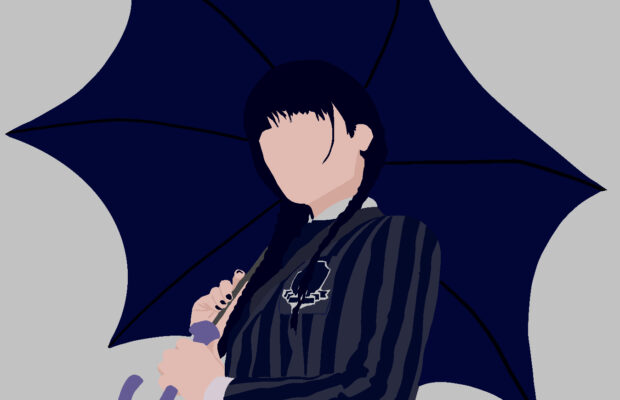 "Wednesday," released on Nov. 23, is Netflix's newest rendition of The Addams Family and has quickly become a fan favorite amongst Netflix watchers.
The series starts off with Wednesday, played by the very talented Jenna Ortega, getting a gruesome revenge on her high school's boys' water polo team for picking on her little brother Pugsley, played by Isaac Ordonez. She is quickly expelled and sent off to what is revealed to be her ninth school in nine years, Nevermore Academy. Audiences also learn that Wednesday's parents had attended the school, which becomes important later.
The series takes a dark turn when the chief of police of the town, played by Jamie McShane, discovers a mutilated body, seemingly done by something inhuman. It is implied that this is not the first body to have been discovered, nor is it the first time that the chief has covered up how destroyed the body actually was to the press.
Wednesday quickly learns of these murders, and in her attempt to uncover the monster who had committed them, she starts to reveal a dark past with both Nevermore Academy, and her parent's time there. With more digging, she discovers the history of Jericho, the town in which the school resides.
The series continues throwing out turns and plot twists that kept me on the edge of my seat. It's spooky, but not quite to the point where some audiences might feel the need to turn away. There is something in this show for everyone, whether it be Ortega's incredible deadpan stare or clever one-liners, the charming love interest or Wednesday's cheerful werewolf roommate, Enid Sinclair, played by Emma Myers.
As of recently, Netflix revealed that "Wednesday" received more views than the fourth season of "Stranger Things," one of the most anticipated seasons of the year. I would argue that, besides the fact that the show was very well done, one of the main reasons that the series was successful was because of how little Netflix actually advertised for it. I, personally, didn't actually start seeing any sort of trailers until mid-October, which is not usual for Netflix. I feel that
Wednesday was an experience, and sometimes it seems that the experience can be taken away when so much is revealed in trailers and teasers, but in this case, there were only two repeating scenes that were in every trailer.
Beyond that, Tim Burton, the director, is most definitely known for his bizarre, creative characters, making him the top choice for directing something as bizarre as The Addams Family. The characters are weird, as they should be, and as a huge Addams Family fan myself, I feel that he couldn't have done a better job.
As of Jan. 6, Netflix confirmed that "Wednesday" has been renewed for a second season, and Jenna Ortega will remain as the main character.