Designing is in Melody Hellard's jeans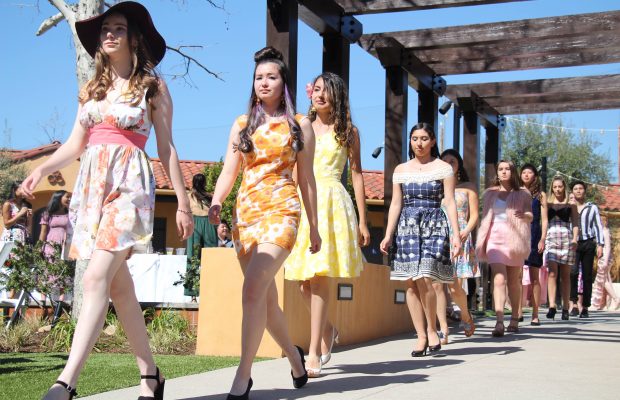 Fusing modern and classic styles, Melody Hellard is not afraid to depart from the norm when it comes to creating fashion pieces.
Hellard, a senior who started making clothes when she was eight years old, juggles school and fashion with a whole lot of determination. She takes inspiration for her work from all around her.
"My design style is definitely inspired by 60s fashion and clothes, music, TV shows because I grew up watching a lot of 60s TV shows," Hellard said. However, she is not afraid to dive into modern fashion when she is creating. "I love fancy dresses, and I love watching big elaborate runway shows. I love how much technique has to go into it."
Balancing school and fashion can be extremely difficult, but Hellard understands the importance of both. "I want to succeed in school and fashion. I feel like it is important to balance them out." All-nighters are not an unusual sight for the designer, but she looks to the future for motivation. "I will treat this like my job because I know that one day this will be my job."
The feeling Hellard gets when she finally finishes a piece makes it worth it. "You look back and you are like 'oh, it finally came together,'" she said. "When it is finally done it's a great feeling."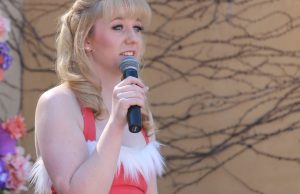 Finding a job in the realms that Hellard is passionate about will not be hard. Marilyn Strange, theater teacher, who has been working with Hellard in the theater department for four years, is especially hopeful for her. "She could easily get hired at a professional theater and nobody would bat an eyelash that she's only 18 because she's just incredibly mature and focused and professional," she said. "I'm going to be watching her get an Oscar or Tony," Strange said of Hellard's bright future. "No doubt, that's where she's going. I'm excited. Hopefully she'll thank me in her speech."
Though Hellard was once a beginner, she is now capable of making garments such as clothing made from Comic Con bags to men's formal jackets, extending the range of clothings she once was incapable of. However, what she finds to be an important part to designing is challenging herself.
"I think my favorite project I made and I was the most satisfied with was a prom jacket I made last year. Because it was my first formal men's piece, and it was really difficult because I had to try to understand, because I only ever patterned for female bodies, so it was hard for me to translate that to menswear because it is a very different concept. But, I learned a lot from it and I am really satisfied with the result," Hellard said.
Craig Hastings, senior, is a good friend of Hellard and has known her since freshman year doing One Acts. Hastings was also the person who Hellard made a prom jacket for. "She makes everything with different colors, different styles and different eras. And the jacket that she made me was something that we worked on together, and that was a collaboration. And she made it really well and I really liked wearing it." Hastings said.
Not only is it important for her to challenge herself as a designer, it is just as important for her to be critical. "You need to be like your own worst enemy because you have to realize if you are not satisfied with your work you are the only one who can fix it because it is your work," Hellard said.
And if you are hoping to start in fashion, Hellard finds you should not hold yourself back. "There were a lot of things I didn't know how to do, and I just went for it. And you can't be afraid to mess up, because I mess up all the time still and I have been sewing for ten years now and I still make really stupid mistakes sometimes," Hellard said. "But it is important to just go for it, and do it regardless you think you can or not, because you will never know what you can actually get done unless you try it."