Qatar slanders FIFA World Cup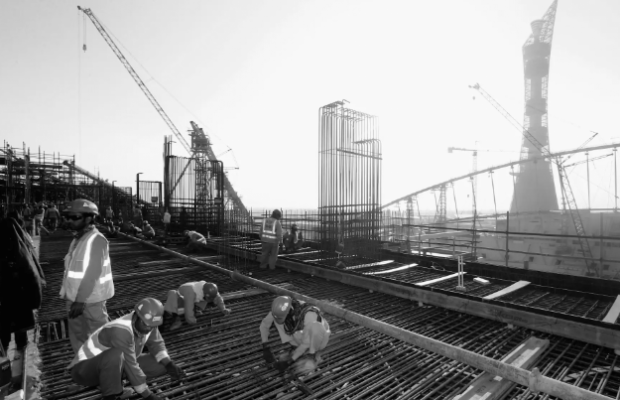 Dating back 94 years in 1930, the first World Cup took place in Uruguay, launching an admirable legacy in the world of soccer. More recently, however, the legacy has been tainted with discrimination and conspiracy.
During the bidding process of deciding the next host for the World Cup, Qatar bid on many innovative features, including an alternative to the insufferable heat in the Arab state. Qatar originally posed the idea of "solar clouds," which are supposedly floating air conditioning that would shield the field and cool off the players. None of this worked, however, leading the teams of the 2022 World Cup to play at night in order to escape the average 105 degrees Fahrenheit in Qatar. Despite the large possibility of players as well as fans suffering heatstroke, the 22nd edition of the FIFA World Cup remained in Qatar.
Last May, just in building the stadium, at least 6,000 migrant workers died, admitted Gianni Infantino, FIFA president. The UN International Labor Organization additionally reported that in four out of the 12 months in the year, workers suffered severe heat stress while contributing to Qatar's infrastructure.
Despite workers sacrificing nearly 10 years of their lives to the stadium, most of them were drastically underpaid. Workers experienced destitution while under the kafala sponsorship system, a system that supposedly entails the safety in the relationship between migrant workers and their employees.
Along with human rights violations being a main issue in Qatar, the country has also been public about their violent disapproval of the LGBTQ+ community. As of present, homosexuality in Qatar is punishable by several years in prison or death. FIFA shockingly played defense against accusers questioning Qatar's support for the LGBTQ+ community. With Qatar loosely implying that everyone in the stadiums are welcome, in response to fears regarding the well-being of players and fans visiting the country that are part of the LGBTQ+ community. FIFA has even gone as far as to retract their original "One Love" campaign, which persuaded players to wear rainbow armbands in support of LGTQ+ rights.
Though it is not required for the hosts of the World Cup to be home to a women's as well as a men's team, the idea that Qatar lacks a functioning women's team despite hosting a men's raises additional speculations of gender discrimination.
While Qatar is not the only country to not have a women's team, the Arab state specifically released a statement during the hosting bidding process that entailed the supposed, "promotion of women's football, including creation of special facilities," Qatar stated in FIFA's bid evaluation report. Nevertheless, no moves whatsoever have been made in support of the women's team and players. It is inevitable that FIFA World Cups will continue to be held therefore I as well as many fans of the popular sporting event hope that these systems of bribing and discrimination will improve in future years.